Watch Video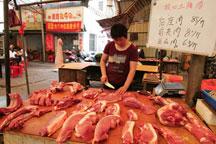 Play Video
Standing at pork stalls, housewives feel compelled to do some arithmetic.
"I haven't seen any pork priced under 30 yuan per kilo for a really long time."
Pork merchants also frown upon the rising price.
Yu Xuejun, Pork Dealer said "The wholesale price was 16 yuan per kilo in May. It has raised over 10 percent since then."
The pork price now stands at a historic high. And it's a national concern.
Lu Jian, Vice Manager of Chengdu Farm Goods Market said "In the past, if the price in our province was higher than usual, we bought pork from other provinces where it was cheaper. But it won't work this time. The price is climbing everywhere. "
A short supply of pork is behind the hike.
According to figures released by the Ministry of Agriculture, national livestock on hand has been falling this year. There are now 5 percent fewer pigs compared to the same period last year.
And the supply needs time to catch up.
Chen Shizhong, Director of County Farming Office said "It takes over one year to raise pigs till they are ready to be sold. So I believe the price hike will continue for a while."
Economists say a 20 percent increase in pork prices will cause the CPI surge by 0.6 a percentage point.
That, to some extent, explains the high CPI figure.
Editor:Xiong Qu |Source: CNTV.CN