Watch Video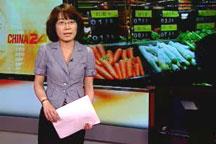 Play Video
For more on rising inflation, we're now joined by our reporter, Liu Ying.
Q1: Liu Ying ... As mentioned in your story, the CPI reached its highest level in 34 months, during May. What are the factors behind the latest price hikes?
LY: Well consumer prices, which are used to gauge the CPI, fall into eight major categories. They are food, tobacco and liquor, clothing, household facilities, health care and personal articles, transportation and communication, recreation, education, and cultural products and services, as well as residential costs. As shown from this breakdown, food prices, which have risen 11.7 percent year-on-year, were the main CPI drivers in May. This contributed more than 60 percent of the overall price increases during the month. Two particular staple goods gained significantly. Eggs and pork were responsible for about 20 and 40 percent of the price hikes, respectively.
Statistics show the cost of pork has been rising around the nation, for four consecutive weeks nationally. The figure now stands at a historic high.
Editor:Xiong Qu |Source: CNTV.CN