Watch Video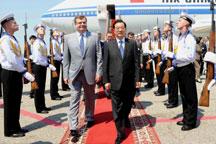 Play Video
Let's take a look at Ukraine's policies toward China, and examine economic cooperation between the two countries.
Ukraine widened the scope of its foreign policy, after President Viktor Yanukovych took office in February 2010.
He made his first visit to China as state leader in September of the same year, and the two countries agreed to establish a strategic partnership.
The relationship has been strengthened by a series of high-level contacts. This April, for instance, Chinese President Hu Jintao met with Ukrainian Prime Minister Mykola Azarov, at the annual Boao Forum for Asia, in Hainan Province.
Ukraine Ambassador to China Yurii Kostenko said, "China is Ukraine's strategic partner, with a crucial role to play. A sound Sino-Ukrainian relationship is very important in maintaining regional peace and stability. We have no economic or political conflicts. And the two countries fully understand and support each other's political stances."
China is now Ukraine's third largest trading partner, accounting for nearly 10 percent of its total commercial volume. Statistics show that bilateral trade surpassed 7.7 billion US dollars last year, up nearly 34 percent from 2009.
Some analysts, including Dr. Zhu Honggen, believe even greater potential can still be tapped from the relationship.
"Great potential exists in both bilateral trade and investment. Many Chinese products are good exports. And Ukraine has abundant natural resources, which can be imported by China. Investment can be made in infrastructure construction in Ukraine, such as roads and bridges and factories. The two countries can also make concerted efforts in exploiting resources," said Dr. Zhu.
But it may not be easy for the two countries to fully capitalize on all these advantages. Ukraine is a relatively new market for China, and Chinese investors may be reluctant to commit their money. Ukraine's economic problems and fluctuating currency also pose risks for prospective investors.
So far, China and Ukraine have embraced opportunities to develop economic and trade ties. Observers hope President Hu Jintao's visit to Kiev will further strengthen bilateral relations, while also resulting in more investment deals.
China, Ukraine expand ties in energy sector

China and Ukraine have vowed to lift their strategic partnership, focusing on expanding their cooperation in energy and agricultural sectors. The message comes after President Hu Jintao held talks with his Ukrainian counterpart Viktor Yanukovich in Yalta.
Full Story>>
Related stories
Editor:Shi Jierui |Source: CNTV.CN