Watch Video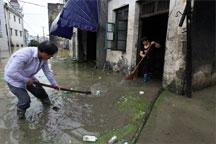 Play Video
Two dikes have been breached in east China's Zhejiang Province due to incessant heavy rains, forcing more than 120,000 people to move to safer places. A total of 21 villages in Zhuji City are inundated affecting more than 5000 people.
Heavy rain has been continuing in eastern Zhejiang province since the beginning of the month. At around 7 pm on Thursday, the Zhuji hydrographical station on the mainstream of the Puyang river recorded the highest flood water level since 1997. Four low-standard dikes collapsed.
The opening of the collapsed dike in Jiangzao county is more than 100 meters wide. 6 villages were inundated in minutes leaving houses and about seven hundred of hectares of farm land under water. Villagers have to travel by canoe to buy necessities. For the elderly and disabled, the government has organized support teams to send supplies to their houses.
Sanjiang village is the worst affected with a dyke breach of close to 80 meters. Under the water used to be a busy town, now it's very quiet and only the roofs of some houses can be seen. Farmers have come back to the village to rescue their ducks and oysters.
The water level in Lanxi county is rising. Local government has announced an evacuation alert.
A local resident said, "The water level went down last night. It was gone, but now it's back."
3 days ago, the entire county was flooded. It eased off briefly before returning. Most residents had just returned home and then had to leave again. Local leaders are going door to door to evacuate the residents.
The repair of the dikes is close to impossible right now mainly because the water level is too high, the ground's too wet and more heavy rain is expected soon.
Since Friday, Zhuji City has identified spots where flash floods and mudslides are likely to occur, and increased all-day patrols around these areas. The government has launched a top-level emergency response.
Related stories
Editor:Shi Jierui |Source: CNTV.CN