Watch Video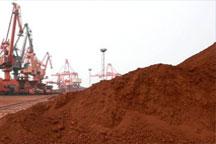 Play Video
The rare earth industry in China is a huge and important one both domestically and internationally. The metals are used in a wide range of hardware, including precision-guided weapons, hybrid car batteries and iPads.
By the end of 2009, China had found 83 million tonnes of rare earth reserve deposits, making up over one third of the world's total. In 2010, China's exports of rare earth accounted for 90 percent of the world's total.
As China keeps exporting its rare minerals, many other countries have established a reserve system for the medals. The US for example, has roughly 12 percent of the world's total rare earth reserves.
But it imports rare earth from China every year to put into reserve. Australia and Canada have also stopped or restrict exploiting of their own rare earth. Japan imports almost all its rare earth from China.
And only one third is used in production, with the other reserved as strategic energy. From 1990 to 2005, China's rare earth exports increased 10-fold. The average price fell however, by one third.
Related stories
Editor:Shi Jierui |Source: CNTV.CN