Watch Video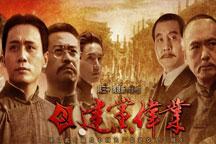 Play Video
July 1st marks the 90th anniversary of the founding of the Communist Party of China. A much-anticipated epic film to mark the special event has just gone on release. The movie with an all-star cast is expected to set a new box office record.
As an epic film to mark the 90th anniversary of the founding of the Communist Party of China "The Founding of a Party" hit the cinemas by a red storm. It's taken the top box office place since opening to the public just a few days.
The movie tells the story of the founding of the CPC in 1921. The story begins in the late Qing Dynasty, and provides a brief picture of Chinese society in the early 20th century. Its producer says the movie is dedicated to those who died for China's revolution.
Another highlight of the movie is its all-star cast. 178 actors and actresses participated in the film. Many are pop stars from the Chinese mainland, Hong Kong and Taiwan. Many stars performed in the movie for free, or were paid just a small, symbolic amount.
Actors and actresses scrambled for parts because appearing in an epic film shows they are well-connected and popular.
Sources report that over 400 people sought roles in the movie.
With a popular theme and cast, producers are quite confident about the box office. The movie is expected to reach an audience of 30 million. Experts believe the movie has created a successful model for revolution-themed films, which merge political doctrine and commercial success.
The film will also make its way into theaters in over 10 countries, including the United States and Canada.
Editor:Shi Jierui |Source: CNTV.CN