Watch Video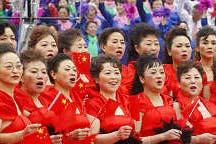 Play Video
To follow up Zhao YunJie's observation on the red song campaign, our reporter Wang Mang Mang joins us in the studio to give us more insight. Mang Mang, what actually is the red song campaign and how did it all come about?
(Mang Mang): The red song campaign is a big part of the nationwide celebration of the CPC's nintieth birthday. These old songs are mostly from revolutionary times and during the period of reform. And today, the redness is being kept alive. What's interesting is that while on the surface the campaign seems to have political overtones, the practice has a huge ethusiastic people base. If you take a walk in parks across China, you will probably see groups of people practicing the songs. They have formed their own singing groups and have their own bands, and because the participants are usually elderly people and retirees, the songs they sing are mostly from their times. These old songs are common in Chinese families where kids grew up hearing them. For people born from the 40's to 70's, hearing the tunes is like going back to the past. And now, as the party's turning 90, they are more than historic rhythms, but a tribute to the CPC's past, to the process of revolution through the times.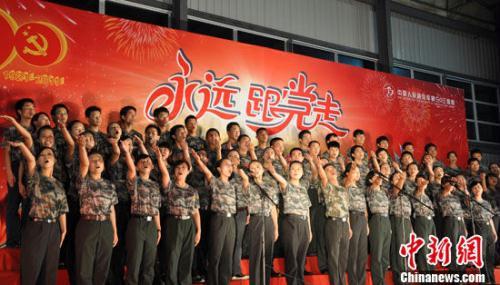 The red song campaign is a big part of the nationwide celebration of the CPC's
nintieth birthday.
(Anchor): So what's your understanding of this campaign?
(Mang Mang): China is a nation that remembers and respects its tradition, both on government levels and among ordinary citizens. I think one of the reasons people still like these songs is that they are most relevant to the particular time. Lots of emotions and historic backgroudns are intertwined in the creation of these songs. And it's not easy to simulate that feeling in present-day. In recent years, composers have been trying to come up with modern red songs to express people's new interpretation of the CPC, but only a few songs have gained popularity. And senior listeners say it's much easier for them to identify with the old songs and to establish a sense of connection with those earlier creations. So for most Chinese, the genuine feeling of the time is what makes these songs the red classiscs, and the memories of a nation.
Editor:Zheng Limin |Source: CNTV.CN