Watch Video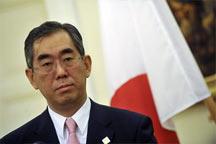 Play Video
Japanese Foreign Minister Matsumoto Takeaki has arrived in Beijing for a two-day official visit. It's his first visit to China since he took office in March this year. Takeaki is expected to meet his Chinese counterpart Yang Jiechi on Monday.
According to Japan's Kyodo news, Takeaki intends to raise the issue of gas exploration in the East China Sea. The Japanese Foreign Minister is expected to call for the resumption of talks in hopes of reaching an agreement. Tokyo objects to Chinese development of the gas fields that overlap with Japan's claimed maritime boundary.
But China says it has never acknowledged Japan's assertion that the median line between the two countries' coasts should mark the boundary of their exclusive economic zones. In 2008, the two countries agreed in principle to solve the dispute by jointly developing the disputed gas fields. But negotiations were postponed as territorial frictions flared up last September over the disputed Diaoyu islands.
Editor:Shi Jierui |Source: CNTV.CN