Watch Video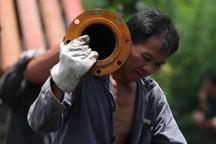 Play Video
Two coal mine accidents have taken place in South China. One was in Guizhou province, the other, in Guangxi Zhuang Autonomous Region. Both places are in the southwestern part of the country. Both places have been hit by the recent heavy rainfall.
The accident took place at nine forty am Saturday, in a coal mine in the southwestern part of Guizhou province.
Initial reports said 21 workers were trapped underground.
But a press conference held later on Sunday morning, updated the number to 23.
The other two aren't coal miners, nor did they register to go down the pit.
The State Administration of Coal Mine Safety has dispatched its deputy director to oversee the rescue effort and inspect the site.
More than one thousand people are participating in the rescue. But so far, they have made little progress.
As of 9 a.m. Sunday, a total of 31 pumps have been deployed to pump water.
Despite that, the water level continues to rise.
31 people were down in the pit when the accident took place. Eight escaped narrowly.
The impending rainy season, and typhoon activity have all of South China bracing for floods.
Heavy rainfall has been sweeping through Guizhou province since mid June.
The Niupeng mine is still under construction, with an expected annual output of 150 thousand tons of coal.
Editor:Shi Jierui |Source: CNTV.CN