Watch Video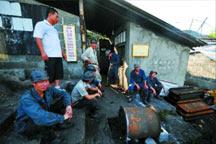 Play Video
Rescuers in China are trying to reach 19 miners who were trapped after a mine collapse in Guangxi Zhuang Autonomous Region on Saturday. Investigators say the cave-in was caused by South China's recent heavy downpours.
Heavy rain forced mining authorities to halt production for three days from June 29 to July 1. Operations had resumed once again in Heshan city in the Autonomous Region, when rain-saturated earth on the surface collapsed into a shaft. 71 miners were working in the pit when the accident occurred. 49 managed to escape, while three were killed.
The emergency rescue team started to clear the mud-filled shaft of the mine on Saturday night, after work crews used pumps to reduce the level of highly-explosive gas in the shaft. A big hole, about 30 meters in diameter and 50 meters deep can now be seen on the surface of the mine.
Rescuers said it is difficult to reach the miners, trapped at a depth of 390 meters, because the size of the immense scale of the cave-in. A second rescue channel in an adjacent shaft is currently being dug in hopes of providing a backup route for the rescue.
Zheng Zhao'an, head of emergency rescue team in Heshan city, said, "The most difficult obstacle for the rescue team, which has dug 300 meters deep into the main shaft of the collapsed coal mine, is the high levels of explosive gas and siltage. These are hindering rescue efforts and making it difficult to reach the trapped miners."
Gas explosions, floods and fires are major issues in China's coal mines. However, casualties from coal mine disasters have been on the decline over the past few years, after the government instituted a series of strict rules to ensure mining safety.
Editor:Shi Jierui |Source: CNTV.CN