Watch Video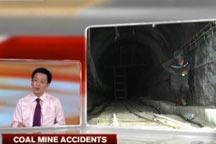 Play Video
For more on the issue of coal mine safety, CCTV was joined in the studio by Current Affairs Commentator, Professor Xie Tao.
Q1: Why were these two coal mines easily destroyed by rainfall?
Q2: But weather is just one side of the story. A coal mine accident is an issue that continues to plague the country. Why has this problem still not been solved?
Editor:Shi Jierui |Source: CNTV.CN