Watch Video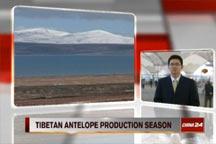 Play Video
The Tibetan antelopes tend to produce their offspring around July 5th. To bring us more details, CCTV reporters headed out to Hoh Xil, one of China's largest nature reserves.
Joined by a scientific exploration team, they set off from Beijing to Xining, the capital city of Qinghai province. From there, they headed for Golmud city. This morning, they left Golmud bound for the interior of Hol Xil, to Zonag Lake and the birth place of the Tibetan antelopes.
According to locals, less than 1000 people have ventured into Hol Xil in recent decades. The area lies 4,700 meters above sea level and experiences extremely harsh weather conditions. The expedition will trace 8 antelopes wearing microchips, and collect data to analyze their behaviors. They are set to bring us daily updates from the reserve.
Editor:Shi Jierui |Source: CNTV.CN