Watch Video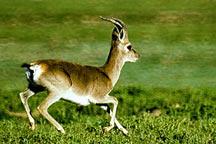 Play Video
Zonag Lake in Northwest Qinghai province, literally translates as "the gathering place of the antelope". This year, almost thirty thousand antelope have gathered by the lake to give birth.
A harsh environment... But teeming with life.
Zonag Lake lies at an altitude of 47 hundred meters.
It even snows in July. The wind is strong all the year. Food is scarce.
But Tibetan antelopes know how to cope in rugged conditions.
They stay by the lake, only in the mornings and evenings.
When the midday sun is high in the sky, the animals hide and wait for the heat to melt the snow. Then, they come out to eat.
The antelope birthing season is now underway.
So far, a number of baby calves have been born, but not many.
Most of mother antelopes-to-be will roam the area around the Zonag Lake, until they are ready to give birth.
And when the time comes, they try to go into labor in quiet place, alone.
For six months, the newborn antelope will depend almost entirely on its mother for survival.
When they get stronger, the young antelope will migrate, together with their parents, back to the original habitat.
Editor:Shi Jierui |Source: CNTV.CN