Watch Video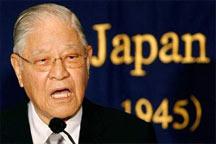 Play Video
While Ma Ying-Jeou is looking forward to his new term, another Taiwan politician is in the blue. Former Taiwan leader Lee Teng-hui has been charged with embezzling nearly 7.8 million US dollars of state funds.
Lee Teng-hui is accused of taking money from a secret diplomatic fund during his 1988 to 2000 time in office.
Prosecutors say that Lee and his right-hand man Liu Tai-ying stole public funds and laundered the money through a property fund.
Lee has denied taking money from bureau and said prosecutors don't have evidence to prove otherwise.
Lee said, "I don't want to say much about the case itself. Because much of the issues are imagined by procurators. I will not be beaten so easily for defense of my innocence."
Lee,who's 88 year old, insists he was framed.
Lee said, "I'm almost a 90 year old guy. I'm not even afraid of death, not to mention oppression. If someone puts dirt on my face, I'll just wipe it off, no big deal."
The Democratic Progressive Party's Chairwoman Tsai Ing-Wen said the investigation should be neutral.
Tsai said, "The timing of the case is very suspicious. Judicial cases should not be discussed as a political issue or be involved in the election of a leader. "
Lee Teng-hui is the second former Taiwan leader to be charged with fraud. His successor, Chen Shui-bian, is serving a 17 year sentence for bribery.
Lee could face up to 10 years in prison if convicted.
Editor:Shi Jierui |Source: CNTV.CN