Watch Video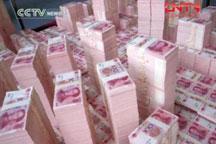 Play Video
Ask anyone old enough in China to list the top ten economic crimes in the 1990s, and they're bound to put Yuanhua smuggling at the top.
The notorious case has involved more than 50 billion yuan of smuggling and embroiled dozens of high-ranking government officials. And Lai Changxing is the man behind all this.
In the early 1990s, Lai, who was then a farmer in eastern China's Fujian Province illegally acquired Hong Kong residency through fake ID and set up Yuanhua Group, which later, became the center for his multi-billion yuan dirty business.
To build up his smuggling net, Lai used every trick in the book. In the mid-1990s, He rented a dock, built a large storehouse and bribed local customs officials to provide cover.
In just three years between 1996 and 1999, Lai and his corporation smuggled products worth 53 billion yuan into China and evaded taxes of more than 30 billion yuan.
More than 4.5 million tons of oil found its way into the Chinese market in three years and a super oil tanker would arrive at Xiamen, a major harbor city in Fujian Province every three days.
About 20 containers of cigarettes pulled into shore every day and some eight thousand luxury cars entered China over three years and were even publicly put up for sale.
In 1999, his business was unmasked, sending shock-waves across the nation.
More than six hundred people have been found to take part in these cases, including a hundred government officials. 14 of them have been sentenced to the death penalty.
The Chinese government was determined to bring the initiator to justice, but Lai managed to escape to Hong Kong and then to Canada, starting his 12-years in exile.
Related stories
Editor:Zhang Pengfei |Source: CNTV.CN