Watch Video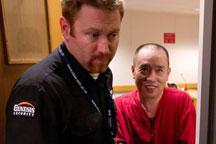 Play Video
On Thursday, a Canadian federal court upheld Lai's deportation order. The decision paves the way for Lai's return to China, 12 years after he fled for Canada. It also marks the beginning of the end to China's largest and most expensive criminal case.
After 12 years running from the law, Lai Changxing's luck has run out.
A Canadian judge labeled the fugitive a "common criminal".
The verdict delivered by a federal court in Ottawa came after more than three hours of hearings. It puts an end to all legal proceedings related to the deportation case.
Canadian law requires the extradition to be carried out soon after the court' decision.
But authorities say they can't disclose the date of Lai's repatriation, citing security and confidential reasons.
Lai is the prime suspect in a smuggling case in the east Chinese city of Xiamen involving more than 50 billion yuan.
He arrived in Canada in 1999 on a tourist visa.
Since then, he has fought his deportation in one of the country's longest extradition cases
In a statement shortly after the verdict, Chinese Foreign Ministry spokesman Ma Zhaoxu welcomed the ruling.
Ma said China's position is clear that Lai should be deported and put on trial.
Editor:Zhang Pengfei |Source: CNTV.CN