Watch Video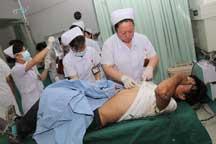 Play Video
More than 200 people injured in the accident are being treated in hospitals in Wenzhou. Doctors have been working overnight, trying to save as many lives as possible.
For the 200 staff at Kangning hospital, it's been a sleepless night. As the nearest hospital to the collision site, it took in 54 injured.
Zhou Deyuan, Director of Surgery Dept. in Kangning hospital, said, "I performed six operations last night. One person died during surgery from massive bleeding. More operations are scheduled over the coming days."
Staff in four other local hospitals have also been working overtime. Their jobs are not confined to treating the injured. They're also responsible for contacting relatives.
"That's your wife's cell number?"
"We can't reach her. She might be injured in the accident too."
Among those hospitalized, some are able to walk away after treatment. Others are not so lucky, and remain in critical condition.
Tong Lingyun, Director of Brain Surgery Dept. in Wenzhou No. 3 hospital, said, "This patient has extensive brain damage and is in a deep coma. It's a long shot that he'll survive. We haven't heard from his family."
Volunteers keep the patient company over night. Mr. Huang, a volunteer, said, "My friend was here last night. I came this morning to replace him. We take turns. We want to help."
More than 500 Wenzhou residents have volunteered to donate blood, following the accident. Wenzhou's Blood Donation Center says it now has sufficient supplies to treat the victims.
Related stories
Editor:Zhang Dan |Source: CNTV.cn