Watch Video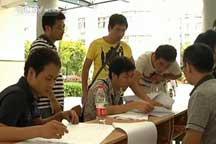 Play Video
Around twenty four hours have passed since the rear-end collision between two bullet trains in China's eastern Wenzhou city. While the rescue effort is still underway, many people are anxiously trying to make contact with families and friends who were aboard the derailed trains.
Since the train derailment on Saturday night, Wen Zhou city's Number 23 Middle School has been transformed into a temporary evacuation center.
Most uninjured passengers have reached their final destinations with the local government's help. So the school now serves as an information center for families and friends of injured and missing passengers.
Major hospitals in the area have sent staff with updated information from the injured passengers to share with their families and friends. But some people are still missing.
After the accident, many people travelled to Wenzhou through through the night. Mr Xu and 3 other friends are here to help a colleague find her child.
A friend of one passenger, said, "Our colleague was aboard the train with her child. She is now in a stable condition at Kangning Hospital, but she hasn't been able to locate the child. We heard the news, so we rushed here to help her find her child."
Mr Jin from Wenzhou's Pinyang county had three relatives aboard one of the derailed trains. He lost contact with them just 40 kilometers' away from the destination.
A relative of one passenger, said, "I can't get in touch with them. Phone calls do get through but nobody answers. I don't think the phones are with them anymore. I had two relatives and one of them has a 9 year-old son also on the train. Now I can't get in contact with either the father or the son."
Mr Jin says he has located another relative who was aboard the train. Now more than 10 family members are here looking for the father and son.
One passenger said, "There were three of us on the train, and a nephew. The nephew is out now. When he was crawling out, he called out to his uncle and his uncle answered. He also saw a piece of metal that looked really heavy pressing on his uncle's body. He crawled out but his uncle and cousin were still inside."
A relative of one passenger, said, "We have been looking since 8 or 9 last night. We haven't had a break, but still we just can't locate them. We have even gone to the scene of the accident and all the hospitals here in Wenzhou."
You can tell from their mud covered shoes that many family members and friends went to the scene of the accident. Staff at the information desk have kept their contact information in case there's new information on the whereabouts of people they are looking for. But they will be HERE... waiting, and hoping to again hear the voices of their missing loved ones.
Related stories
Editor:Zhang Dan |Source: CNTV.cn