Watch Video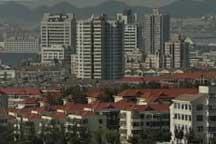 Play Video
House prices in first-tier cities have cooled slightly after a series of measures to rein in costs. However, prices are now skyrocketing in smaller cities. In February, the State Council required all municipalities, provincial capitals and other cities with rapidly climbing house prices to adopt measures that restrict buying.
The International Housing Industry Expo kicked off on Friday in Yantai, a coastal city in east China's Shandong province. The expo attracted nearly 10-thousand visitors and sale staff from more than a hundred real estate agencies seeking new customers. The large attendance signals an emerging trend of increasing house prices in lower tier cities.
Li Xujin, Manager of Yantai Yuexiu Real Estate, said, "Firstly, Yantai is a very good place to live. It's value is being recognized by more people. Secondly, the policy of restricting house sales in big cities is turning people to buy homes in smaller cities."
Yantai's coastal scenery and lack of house buying restrictions make it an ideal city for real estate companies to attract would-be investors.
But house prices in Yantai have been rising at just over half a percent per month since the beginning of 2011. The price for many properties with sea views has even soared to more than 20-thousand yuan per square meter.
A resident in Yantai, Shandong Province, said, "We earn about 16 to 17-hundred yuan per month, so we can't afford current home prices. They rise too fast." "Most people, particularly middle and low-income earners, can't afford to buy a house."
House prices aren't only soaring in Yantai. Many lower tier cities are seeing property prices skyrocket. This has resulted in them adopting the house purchase restriction policy more common in first-tier cities.
According to figures from the National Statistics Bureau, prices have risen over 5 percent for commercial and residential properties built between January and May this year in smaller cities.
Chen Guoqiang, Vice Chairman of Chian Real Estate Institute, said, "Presently, houses are in great demand. Many people want to buy houses as investments. People who had planned to buy houses in bigger cities turned instead to smaller cities because of the restriction policy. All these elements caused prices to soar."
House buying restrictions are poised to spread further, with more lower tier cities expected to adopt the policy soon. Meanwhile, the Ministry of Housing and Urban-Rural Construction is investigating causes of the rapid house price hikes.
Related stories
Editor:Zhang Dan |Source: CNTV.cn