Watch Video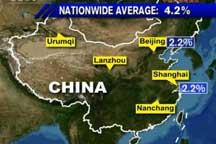 Play Video
1. Could you give us a general picture of the differing price increases in cities with limits of purchase and those without?
A: Sure. The divergence in market trends has become evident in the first half. The policy of limiting home purchases, seen as one of the strongest measures to control property speculation,is definitely weighing on the market.
For example, nationwide property prices rose 4.2 percent in June on average, Prices in Beijing and Shanghai were up just 2.2 percent from a year earlier, because speculation is dampened by the restrictions on home purchases. But investors are obviously turning to a number of smaller cities... Urumqi, capital of Xinjiang Uygur Autonomous Region led the pack with housing prices soaring 9.2 percent from a year earlier, followed by Lanzhou in Gansu province and Nanchang in Jiangxi province, both climbed 8.2 percent.
And according to statistics from real estate agents, home prices are hitting new records in smaller cities. Yantai in Shandong province saw new home prices exceeded 7,000 yuan per square meters, Yulin in Shaanxi province, over 6,000 yuan per square meters, Ordos in Inner Mongolia Autonomous Region nearly 7000 yuan, Dongguan in Guangdong province over 8,000 yuan, and Tangshan in Hebei province even over 10,000 yuan.
The average monthly income in most of these cities is just around 1 or 2 thousand yuan. It's fair to say such high levels of housing prices are well beyond the affordability of local residents.
2. It seems that property fever is transferring to these 2nd or 3rd tier cities...and the government is working to expand the restrictive policies to curb the trend, do you have any clue which cities are likely to be required to restrict home purchases?
A: Analysts have predicted the government may push the enforcement of restrictive policies to over 100 second and third tier cities, compared to the current 40 first-tier cities.
And so-called "backyard cities", meaning they are closely linked to hub cities, are likely to be included. For example, when Guangzhou became among the first batch of cities with restrictions on home purchase last October, neighbouring Foshan city saw a price surge of 27 percent in its property. As a result, it is included in the expanded list this January.
However, although property fever is temporarily controlled in Foshan, nearby cities in the Pearl River Delta region, which are basically connected within one hour of high-speed traffic, have emerged as the new destinations of property investment. It is likely that such cities, which also saw price rising quickly in the past 6 month, are to be included on the new list.
Related stories
Editor:Zhang Dan |Source: CNTV.cn