Watch Video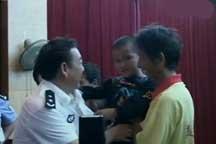 Play Video
For any child, anywhere - home is where the heart is. But in China, a growing problem of child abduction means some babies and toddlers are sold for adoption by traffickers, to families both home and abroad.
Now, public security officers from fourteen provinces across the country have vowed to work together, in a bid to rescue the missing youngsters - and reunite them with their families. One of the largest child-trafficking rings has already been broken up. Tom Fearon takes a close look at the efforts to give abducted children a new chance in life. Ready for the fight...
This is the police center in Handan Public Security Bureau,in north China's Hebei Province. Officers are making final preparations, ahead of an operation to arrest trafficking suspects.
Liu Ancheng, Deputy Head of CIB in Public Security Ministry, said, "Following the instruction of the Ministry of Public Security, I command this operation to arrest trafficking suspects to begin."
In Handan city, police are waiting for the right moment to swoop in and arrest one couple, who they suspect are key players in child trafficking rings.
Lu Zhilin, Deputy Head of CIB in Handan Public Security Ministry, said, "According to previous investigations, the two suspects live near here. We have to make sure of their exact location. We must wait before we force our way into their house."
Ten minutes later, as police make their way to a rented house, the couple's fate is sealed. After checking their ID, police arrest the couple. They're accused of abducting 10 children.
Lu Zhilin, Deputy Head of CIB in Handan Public Security Ministry, said, "We suspect them of abducting a large number of children as part of child-trafficking rings. They are two of the most wanted people by police."
Police have also arrested 14 others suspected of involvement in child-trafficking. In most cases, children are abducted to be sold for adoption to families in rural areas.
The main goal of the operation is to reunite abducted children with their own families. It's hoped that despite their trauma, they may be able to enjoy the innocence of childhood once again.
Related stories
Editor:Zhang Dan |Source: CNTV.cn