Watch Video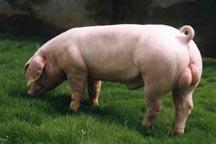 Play Video
The media investigation into contaminated pork began when suspicions were raised over a surge in sales of ultra lean meat - pork with as little fat under the skin as possible. Many of these so-called "handsome pigs" originate in central China's Henan Province, a major center for pork production. CCTV reporter Jie Bai tells us how the case first surfaced, and how it sent shock waves across the nation.
Mengzhou city, central China's Henan Province.
Here, many farmers raise what they call "handsome pigs" - slim and muscular - with very little fat.
One farmer spoke of how high quality pork could be produced by using a "magic" additive, that turns fat into lean meat.
Pig farmer said "They call it "lean meat powder". I didn't ask what it really is. Everybody's using it."
The magic powder turns out to be Clenbuterol - a banned, poisonous substance.
But most farmers in fact knew they were using illegal chemicals.
Pig farmer said "I know what this thing is. You can read it on the Internet. Someone has even gone to prison for producing the powder."
Behind the known risks lies the commercial reality - the constant drive to maximize production, and profit.
Pig farmer said After using the powder, the pigs can sell for an extra twenty to thirty yuan each.
The contaminated meat then enters the food chain.
Many pigs were bought by Jiyuan Shineway company, a subsidiary of Henan Shineway Group. They're one of the major meat producers in China.
Local farmer Cao Fuxing has sold more than three thousand pigs to the company last year. And the pigs were usually accepted without being tested.
Staff members at the company have confirmed they had been buying the "handsome pigs" at a higher price.
Song Hongliang, Purchasing Manager, Shineway Company said "These pigs are more expensive, because they carry more lean meat. These pigs will go to the production line after a week without being fed such chemicals."
It's no secret among farmers that one of their biggest clients favors illegally produced pigs.
Since the scandal emerged, the company's shares have tumbled.
The people suspected of manufacturing and distributing the chemical are now in court. But it's not the end of the case. Consumers are angry, having paid higher prices for something that could be dangerous.
China still has a lot to do to prevent such scandals from happening again.
Related stories
Editor:Xiong Qu |Source: CNTV.CN