Watch Video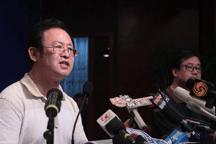 Play Video
It's been more than a week since the deadly bullet train collision in Wenzhou city in eastern China's Zhejiang Province. The accident killed 40 people and left 191 others injured. The rapid development of high speed trains, once promoted as the nation's pride has turned into a target of constant public scrutiny. The Ministry of Railways has come forward again to apologize, promising they'll carry out an overhaul of the system.
After a week, the Ministry of Railways apologizes once again to the victims and their families.
Lu Dongfu, Vice Minister of Railways said, "We would like to send condolences to the families of the victims and apologize to all passengers. We're sorry this accident has resulted in heavy casualties and huge economic losses."
This is the second apology from the ministry since the accident took place.
A torrent of questions and outrage has flooded the nation's blogosphere. China's internet users have criticized how railway authorities responded to the accident, and are demanding a thorough probe into its causes.
There had been regular glitches with the high speed rail system in the week before the disaster. The ministry had insisted "the technologies were safe and the most advanced". But now, it admits the necessity of an overhaul
Lu Dongfu said, "We'll draw lessons from the accident. We'll launch a two-month safety overhaul in the railway system to eradicate protruding safety problems and risks."
But much of the online criticism has focused on the rescue operation.
"I think these doubts have hurt the feelings of the more than two thousand rescue workers at the site. It's always our priority to save as many people as possible and to protect passengers." Said Lu.
-But many people aren't buying the statement.
Some Internet users quoted several interviews with rescue workers who worked the night of the accident, saying "no sign of life had been detected".
Questions were raised why a two and a half year-old girl was pulled out of the wreck hours after the rescue team declared an end to the search.
The ministry spokesman avoided the question, only describing it as "a miracle of life" during the press conference held last Sunday.
The Ministry provided part of the answer to a nation still in shock. At the same time, China's internet users continue to keep a close eye on every detail, hoping no one will get hurt again in the country's pursuit of developing the world's most advanced technologies.
Related stories
Editor:Zou Xian |Source: CNTV.CN