Watch Video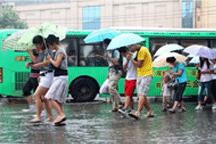 Play Video
Torrential rain plagued northwest China's Shaanxi province between Thursday and Saturday, causing huge economic losses to the region.
Hanzhong city in the province's southwest suffered the worst of the flooding. The weather has affected a total of 110 thousand people from eight counties. Three people are missing, and over 9,000 have been displaced.
This was once a specially built path for sightseeing along the river. Two days of torrential rain has caused landslides and surges in the river. Many houses are now impossible to live in.
A resident of Yang County, Shaanxi Province said, "The place was inundated. If we didn't open the door immediately, the water would have risen to the ceiling."
Around 60 thousand people were even less fortunate. Their homes were completely destroyed by the flood.
The classrooms of a local middle school have become a new home to many.
A resident of Huayang County, Shaanxi Province said, "I have nowhere to go. My home was destroyed, the government sent us here, my mother is 80 years old, we are all living here."
Temporary accommodation has been erected in the town's main street.
Feng Jun during interview with CCTV.
Feng Jun, mayor of Huayang County, Shaanxi Province said, "The middle school is far from the town center. Many people say they want to live near their homes. So the government is sending tents and beds here for their convenience."
Infrastructure has also taken a big hit. Sludge from the mountains needs to be cleared, if traffic is to resume anytime soon. Local residents are pitching in with the clean-up effort.
A soldier of Huayang County said, "We started work at two o'clock in the morning. It's been ten hours, and it's almost finished."
Staffs from local electricity and transportation departments have also been working around the clock. Power supplies and communications have now resumed.
Relief materials continue to pour into the areas worst affected by the disaster.
Editor:Zou Xian |Source: CNTV.CN