Watch Video
Play Video
Summer holidays, most children's favorite time of the year. It is a period when they are temporarily away from exam stress and homework pressures. But what do they do when school's not teaching? CCTV reporter Ai Yang takes a look at how one summer camp in Beijing is keeping its students interested.
Children begin their day by giving early morning appreciation of their ancestors and teachers. This is how a summer camp dedicated to Chinese culture and traditions run its daily activities.
Located in quiet and leafy Beijing suburbs, the twenty-day summer school now hosts 147 children. Every day before having breakfast, words of gratitude are chanted out loud. Parents, friends and among all, people who provide food, are heartfully thanked.
During most ordinary busy days, small things like this are easily forgotten, and even children are too occupied with school exams and homework to slow down for anything else. But, this summer camp makes sure, that changes. From forming the habit of clearing up after themselves, to more sophisticated cultural practices such as calligraphy, a calm atmosphere is created for children to once again, start appreciating their own culture and traditions.
Confucius and other Ancient Chinese philosophies have been around for centuries, guiding and giving principles through people's lives and work. However, nowadays it is questionable, whether they can still stand so firm to beat Mathematics or even English curriculums in the classroom. And parents send their children here, in the hope that they will at least catch up with some Chinese classics.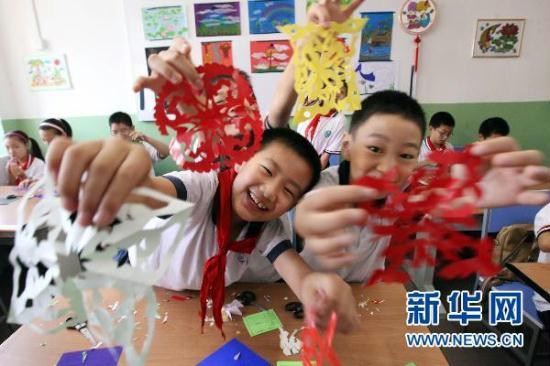 Children at summer camp learning traditional papercut.
One more thing that makes this camp different is that as well as teaching children, it also teaches adult campers. It helps parents here have a better understanding of the art of teaching, both in the classroom now, and in their own home, when they go back later.
Forty-six year old Jiang Qingai is a mother of two. Both of her sons, aged 7 and 24, are spending summer here. In a few months time, her elder son is to travel to Florida for a master's degree in Finance.
Jiang Qingai said, "Here I learn with and even from my children. As a mother I see them improve with steady progress, and I don't want to miss seeing this."
Jiang Mingchang says filial devotion is the most important lesson he has learnt here.
The elder son, Jiang Mingcheng said, "A man is only complete when he bears this virtue in mind, and I cherish spending time here with my family, as I'm leaving soon."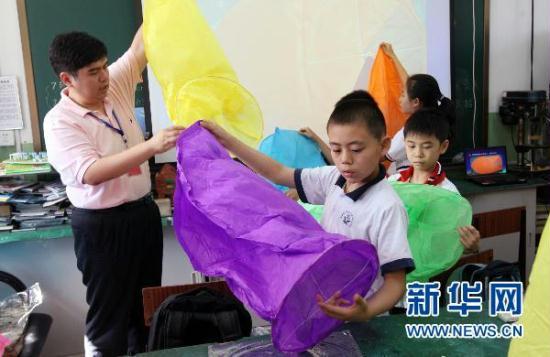 Children at summer camp
Twenty days may not be enough to develop significant improvement in either children or adults. As soon as the summer holiday is over, the young and the old will go back to their normal ways of life, studying for a future or working for a better life
Li Yiduo, professor of Peking University said, "We are living at a time when everyone hurries. We all want to have a good life, but constant competition leaves no room for satisfaction, and that in turn has influenced our children. There should be more emphasis on traditional values and education so that we could all find some peace at heart."
A summer experience like this does more than offering a few new skills, it has reminded people, there's still a lot from a Chinese education, the traditional way.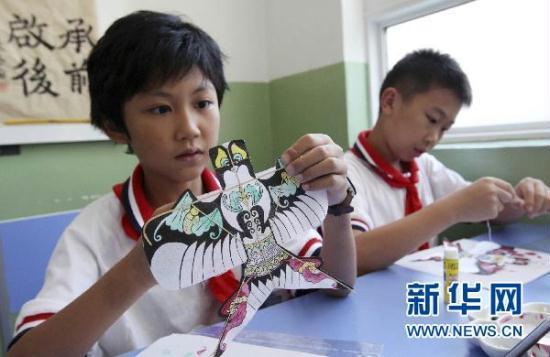 Children at summer camp learning making kites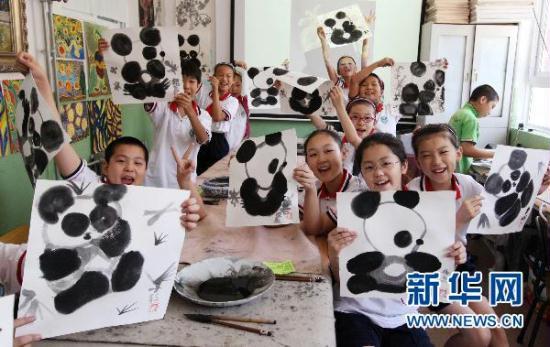 Children at summer camp showing their paintings
Editor:Zou Xian |Source: CNTV.CN