Watch Video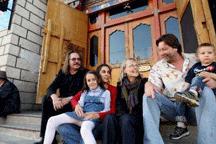 Play Video
In the past decade, it has become increasingly common for foreigners to travel, work or even settle down here in China. Wu Haojun takes a closer look at how the past ten years have been for 4 foreign restaurant owners in the city of Lhasa.
Located in the old section of Lhasa near the Potala Palace, there is a Western restaurant favored by both local Tibetans and visiting tourists.
It's named "Dunya", meaning the whole world.It's run by two couples who first came to Tibet from abroad more than a decade ago.
Kristin and Rene from the Netherlands arrived single in 1996, and are now married with two children. In the beginning, the idea of settling down in a town a world away from their homeland never crossed Kristin's mind. But a daughter and a son later, the rest is history.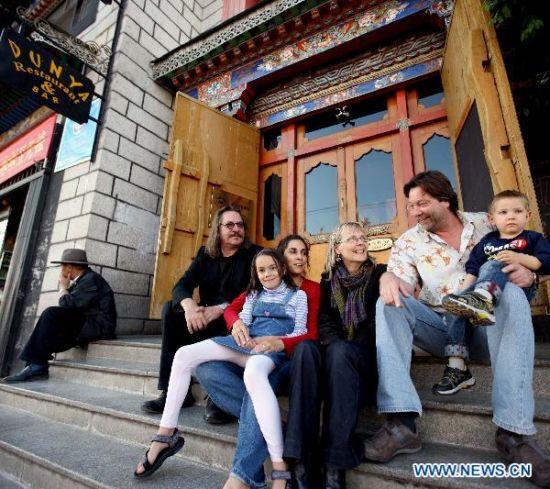 Owners of Dunya Restaurant & Bar, Jannette Madern (3rd, R), Fred Madern (1st, L), Kristin
Schrama (2nd, L, Rear) and Rene (2nd, R), sit in front of Dunya with two children of
Kristin and Rene, Yara (2nd, L, Front) and Noah (1st, R) in Lhasa, southwest China's Tibet
Autonomous Region, June 27, 2011. (Xinhua/Li Ying)
For Kristin and Rene, after running this restaurant for 12 years, the place has become a true testament of their love for each other and for their children. However, for Fred and Janette, also the owner of the restaurant, has served as a window through which they have been witnessing the inspiring changes taking place in Lhasa.
12 years have passed since they first arrived. The couples are now thinking about returning home.
Kristin and Rene's children are reaching school age. Fred and Janette are not sure whether they still have the energy to keep up with managing another decade.
But they promise long after they are gone, Dunya will be in good hands to continue its service here in Lhasa, for locals and visitors alike.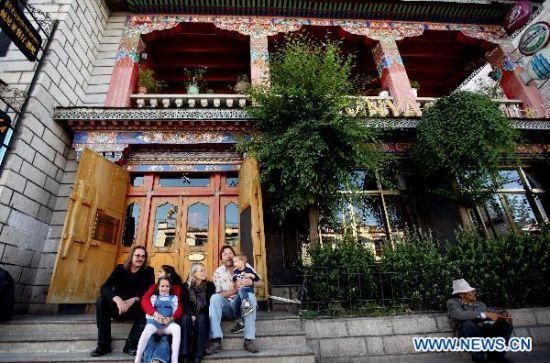 Owners of Dunya Restaurant & Bar, Jannette Madern (3rd, R), Fred Madern (1st, L), Kristin
Schrama (2nd, L, Rear) and Rene (2nd, R), sit in front of Dunya with two children of
Kristin and Rene, Yara (2nd, L, Front) and Noah (1st, R) in Lhasa, southwest China's Tibet
Autonomous Region, June 27, 2011. (Xinhua/Li Ying)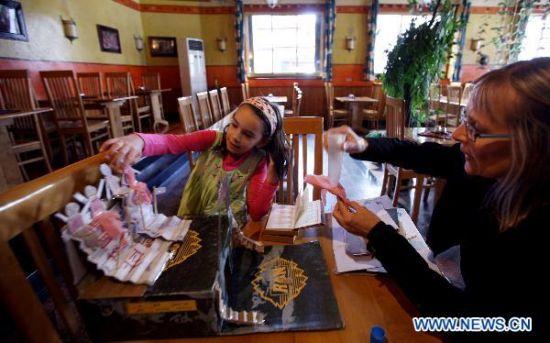 Jannette Madern (R), one of the owners of Dunya Restaurant & Bar, helps Yara, daughter of
Kristin and Rene, make a birthday gift for her father in Lhasa, southwest China's Tibet
Autonomous Region, on June 22, 2011. (Xinhua/Li Ying)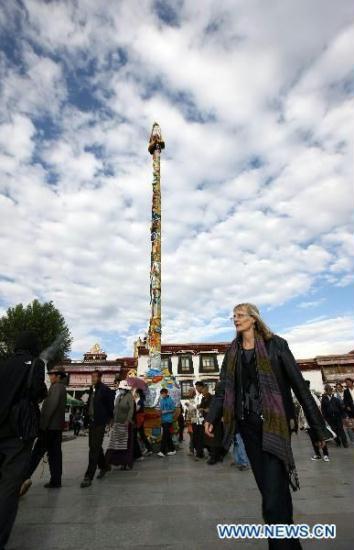 Jannette Madern, one of the owners of Dunya Restaurant &
Bar, walks past Jokhang Temple in Lhasa, southwest China's
Tibet Autonomous Region, on June 26, 2011. (Xinhua/Li Ying)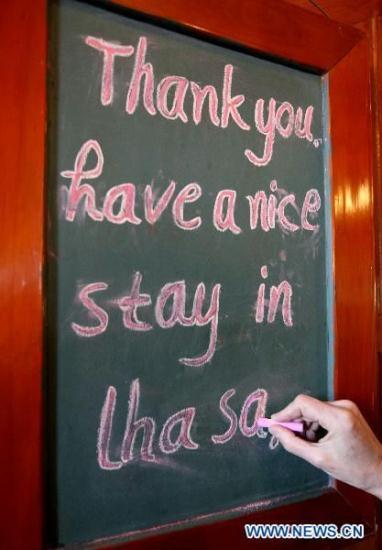 Jannette Madern, one of the owners of Dunya Restaurant & Bar,
colors the characters on the greeting board in the restaurant in
Lhasa, southwest China's Tibet Autonomous Region, on June 27,
2011. (Xinhua/Li Ying)
Editor:Zou Xian |Source: CNTV.CN