Watch Video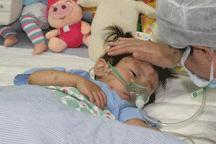 Play Video
Out of all the people injured in the accident, there is one girl who has grabbed most attention from the public. Her name is Yiyi whose recovery is concerning many people across the country who see her survival as a miracle. Paul Crowe takes us to Yuying Children's hospital in Wenzhou for a look at her latest condition.
Bear dolls with smiles, flowers with fragrance, letters carrying love from across the country. They all are for the little girl Yiyi. She was seriously injured and lost both her parents in the tragic train crash of July 23rd. She was rescued soon afterwards. Seven days she has been here with doctors and nurses trying their best to save her. And luckily, she is getting better.
Wang Lingxia, doctor of Wenzhou Yuying Children's Hospital said, "Yiyi's biochemical indicators are getting stable, some of them are back to normal."
Doctor Wang Liangxia during interview with CCTV.
Yiyi's left leg was seriously crushed in the carriage during the accident, doctors were uncertain whether the leg could be kept or not. Now it seems the worries are over.
Doctor Lu Chaosheng of Wenzhou Yuying Children's Hospital said, "The only possible big concern for now is infection. But we are optimistic that Yiyi will be fine."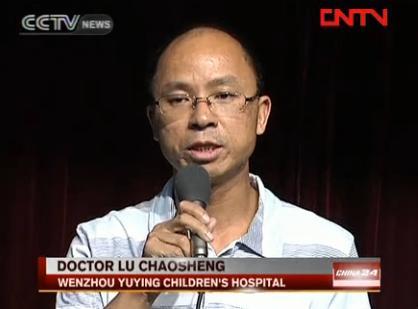 Doctor Lu Chaosheng
The public is glad to hear it, and almost too enthusiastic. Many people try to visit Yiyi. In order to give Yiyi a quiet place to recover, the hospital has set up a love wall, carrying letters for Yiyi from strangers across the country. It hasn't taken too long for the wall to be filled. Hundreds of letters carrying love and wishes give her strength and courage. Even so, some people can't wait to come visit her in the hospital in person, like Miss Li from Shanghai.
A Shanghai local, Miss Li told us, "I read on the Internet that Yiyi has dreamed of hugging a nurse and calling her mom. She says 'Mon, where have you been? I thought you didn't want me anymore'. I couldn't help myself when I heard that, so I came here for her from Shanghai."
Thanks to people like Miss Li, Yiyi is not alone. Life has been cruel to this little girl, but at least there is hope, a hope created by anonymous love.
Yiyi's condition getting better
Related stories
Editor:Zou Xian |Source: CNTV.CN