Watch Video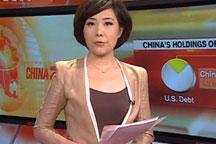 Play Video
Q: For more about the US debt crisis on China, we are joined in the studio by our reporter Hou Na. Hou Na, during your interviews, what did the analysts say about the impact of the crisis on China? What can you tell us?
A: Well, first of all, let's look at some figures. The latest figures for May from the US treasury put China's holdings of US Debt at nearly 1.2 trillion dollars. That's nearly 26% of total foreign holdings and roughly the equivalent of Australia's entire GDP. China, as the biggest creditor of the United States, has a large stake in the American economy. According to experts I talked to, some believe, the main impact for China lies in the import and export sectors which are closely related to the Reminbi's exchange rate against the dollar. And the agreement to raise the debt ceiling has removed short-term risks for China, and in this way, the impact on China is limited.
Q: In such a global market, what can China do to weather the economic uncertainty caused by US debt crisis.
A: China has the world's biggest foreign exchange reserves. with about two-thirds estimated to be held in dollars, and any sign it is alarmed by policy uncertainty could ripple through global markets. Although the agreement on the US debt ceiling has reduced short-term risks for China, it has revealed some long-term risks. Some say China should reduce the portion of dollar-denominated assets in future additions to its foreign exchange reserves. But some believe the solution to this problem is not that simple. China enjoys vast resources brought by the global market, and at the same time,some risks as well. In order to stand still in the economic unrest, China should spend more money on the real economy like minerals and energy sectors. Experts say it's necessary for China to change the current concentration of US dollar assets, and more importantly, to change the trend of increasing holdings of dollar assets in the future. and this would require a fundamental adjustment in the economic model.
Related stories
Editor:Zhang Dan |Source: CNTV.CN