Watch Video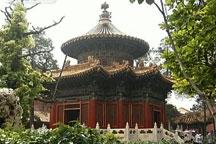 Play Video
The Palace Museum is being questioned over why it kept quiet about the accident until it was made public on the Internet. Deficiencies have been revealed in the public unit's information management.
The porcelain was broken on July 4th. About three weeks later, a Netizen called "Long Can" published the information online through a microblog. It soon attracted great public attention.
Soon afterwards the Palace Museum informed the public about the issue through the media. Many asked, why it took so long to let people know?
Chen Lihua, Deputy Curator of Palace Museum, said, "The reason we didn't publish it at the beginning of July was that we needed time to figure out whether the problem was caused by human error or a technical problem with the equipment. It took time."
But what if the information hadn't been published online? The Palace Museum faces many questions from the public. On Monday, the Museum handed over a written report on the issue to the Ministry of Culture and State Bureau of Cultural Relics and waited for its response. Although delaying the release of the information for almost a month, the Museum didn't violate any regulations.
According to China's law of heritage preservation Museums have to report to the State Council if top-level cultural relics is broken. But there's no time limit on it. Experts on law say the accident should focus attention on improving the information management of the public unit.
Related stories
Editor:Zhang Dan |Source: CNTV.CN