Watch Video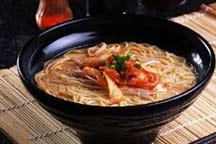 Play Video
A food scandal once again rockets public trust. This time, it is Ajisen Ramen, a well-known Japanese noodle chain which has been making the headlines after it appears they lied about the ingredients in one of their famous dishes.
The restaurant claims its noodle soup was prepared by boiling pork bones for up to 20 hours. This was proven false by the Shanghai Municipal Food and Drug Supervision Administration. The authorities say the noodle soup is made with a concentrated solution diluted into water.
Ajisen Ramen entered the Chinese market in 1997. It expanded rapidly across the country and by August 2011, the company operated 588 chains in China. Customers who often dine there are familiar with their advertisement: noodles with soup cooked for 20 hours, rich in calcium 4 times that of milk and 10 times that of ordinary meat dishes. When the Food and Drug Supervision Administration in Shanghai uncovered the truth, the restaurant was forced to admit it had lied. The restaurant's business was immediately affected by the scandal with fewer customers in the following days.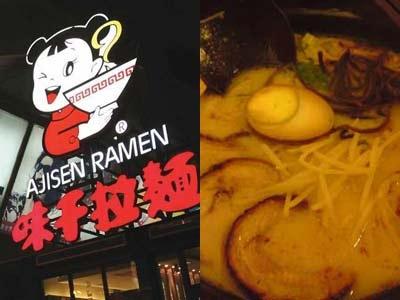 The restaurant claims its noodle soup was prepared by boiling pork
bones for up to 20 hours.
Guangzhou resident Ms Wang said, "They've lied to us. If the business is to last long, the owners must be honest to their customers. In terms of food safety, I don't think we have sound regulations."
Ajisen once claimed the impressive nutritional content of their noodle soup was tested and certified in 2006 by the College of Food Science at the Chinese Agricultural University. This puts the university in the spotlight, forcing them to explain themselves.
Fan Zhihong, associate professor of China Agricultural University, said, "What we received for testing was a bag of sauce. It was made by concentrated pork bones. We published our results based on what we found in the sauce. We never knew the results we presented concerned a solution which would later be diluted 36 times. It is very wrong for them to misuse the data we provided."
Ajisen's claims to have made an honest mistake but this PR strategy doesn't seem to be paying off. Consecutive scandals have injured not only their customer's trust but also investors' confidence in the brand. The same quality watchdog says the restaurant was already fined 780 thousand yuan in May 2010 for adding a prohibited sweetener. On the Hong Kong Stock Exchange, where Ajisen listed in 2007, the company has seen its share price drop 25% due to this scandal and it may take a long time for the brand to regain the trust of Chinese customers.
Related:
Credibility crisis sweeps int'l brands in China
The scandal surrounding Ajisen Ramen is just one that's broken out in recent days. Foreign brands are coming under increasing scrutiny for their poor record this year in China. Full Story>>
Studio interview: Reasons behind credibility crisis
Foreign brands have long been seen as synonymous with good quality and service by Chinese consumers, as they are supposed to have strict quality management. Why are they seeing these problems? Full Story>>
Editor:Zhang Ning |Source: CNTV.CN