Watch Video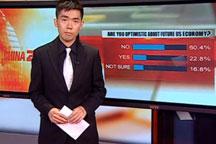 Play Video
For more analysis, we are now joined in the studio by my colleague Zhang Shuo, who's been following the issue.
Q1: Tell us more about China's foreign currency investment.
A1: China is United States largest debt holder and also the biggest victim in the US debt crisis. Let's first take a look at the composition of China's foreign reserves. Though there are no official reports, insiders estimate, 10 percent is held in Japanese yen, 20 percent in the Euro, and the most, about 70 percent is held in US dollars.
Some netizens even say that China's economy has been already hijacked by its investment in the US currency. And Chinese are also quite concerned about the security of its foreign investment. China's web portal Sina conducted a survey about how the Chinese see the United States's debt crisis. Nearly 30 thousand netizens took part.
On the question of whether the US's move to lift its debt ceiling would benefit the global economy, about 40 percent of voters said yes, 30 percent cast doubt, and another 30 percent wasn't sure. On the prospects for the US economy, most voters are quite pessimistic, just one in five Chinese voters are still optimistic about America's economy.
Q2: What's China's reaction to the US debt crisis? What is China doing to maintain the security of its foreign currency?
A2: On Tuesday, the central bank governor, Zhou Xiaochuan, was interviewed by the Financial Times. He first welcomed the US's progress in dealing with its debt problem and said that China will continue to diversify its foreign currency investments and strengthen risk management to minimize the impact of the global financial market's fluctuations.
But there are still suggestions that China suggest should move its foreign currency into other areas, such as investment in mineral resources, uninhabited islands and other regions. China's Dagong Global Credit is one of those which is pessimistic. The company has downgraded the US credit rating from A plus to A.
Related stories
Editor:Zhang Dan |Source: CNTV.CN