Watch Video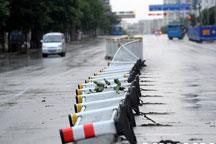 Play Video
In East China's Shandong Province, typhoon Muifa is likely to make landfall Monday. This year's ninth typhoon has decreased in strength, from severe typhoon to regular typhoon status. However, it has picked up speed.
Typhoon Muifa is currently passing over the East China Sea, southeast of Shandong Province. The typhoon boasts wind speeds of up to 40 meters per second. As Muifa nears the coast, its path is becoming clearer. It's headed northwest toward the southern part of the Shandong Peninsula.
High winds and large waves are expected over the next few days in Shandong, Liaoning, Shanghai, Jiangsu, as well as the area north of Zhejiang Province. In response, China's central meteorological administration has maintained its orange alert over the typhoon.
Editor:Zhang Dan |Source: CNTV.CN