Watch Video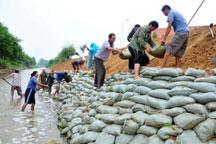 Play Video
With typhoon Muifa heading for East China's Shandong province, the forecast is for it to make landfall on Aug. 8th. As it will bring torrential rain and strong winds to the province, precautionary work is already taking place. Jie Bai tells us how the province is preparing for the most powerful typhoon in years.
Although typhoon Muifa has not yet made landfall in Shandong Province, the city of Qingdao is already feeling its impact. High waves up to five meters can be seen near the Zhan-qiao Pier. So far, the entrance to a beach near the pier is blocked and no-one is allowed on the pier.
One lifeguard said,"People are prevented from coming near the beach because the waves are so high." Meanwhile, shark-control nets have been reinforced and sand bags have been laid near the beach. "Sometimes when the rain becomes heavy, water will inundate the low-lying land and form a ditch in the sand. If the sand bags are laid, the losses will not be so high."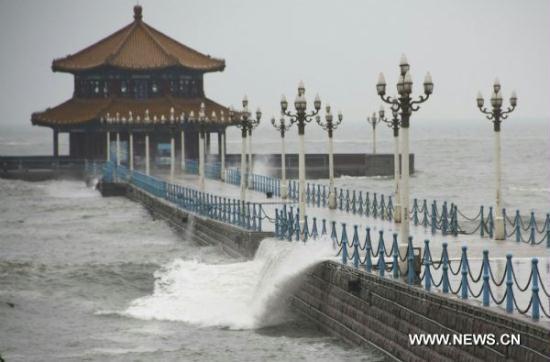 High billows are seen in Zhanqiao sea area in Qingdao, east China's Shandong Province, Aug. 7, 2011. Typhoon Muifa, the ninth typhoon to hit China this year, is weakening as it moves further north along the country's affluent and densely-populated eastern coast, forcing the evacuation of 610,000 residents on its course, authorities said Sunday. The typhoon, bringing gusts up to 178 km per hour, is moving at 25 km per hour towards the coast of Shandong Province where it is expected to make landfall Monday morning, the National Meteorological Center said in a bulletin. (Xinhua/Huang Jiexian)
At another bathing beach in the city, a yellow flag is raised to warn residents of the potential danger. According to staff, the beach will be closed when the typhoon arrives and residents are advised not to swim when the waves get higher.
Zhong Zhizhong, head lifeguard, said, "So far, forty lifeguards have been sent to the beach. We will pay close attention to senior citizens and children and do our best to ensure people's safety."
From the beach to the city center, the typhoon is also going to be a big test for the city's drainage system. Many pipelines have been checked.
Yin Xinhuan, head of Qingdao Drainage Management, said, "Our main work is to strengthen the pipelines' ability to discharge water. But if there's too much water, we may have to close the road."
To deal with the aftermath of the typhoon on Qingdao city, hundreds of excavators, hoisting machines, discharge pumps, are being prepared. Amid all the preparation work, residents are bracing themselves for heavy rain and strong winds in the next 24 hours.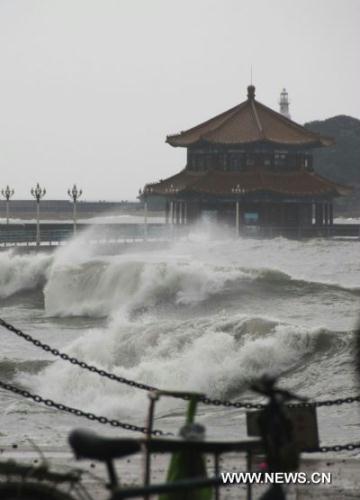 High billows are seen in Zhanqiao sea area in Qingdao, east
China's Shandong Province, Aug. 7, 2011. Typhoon Muifa, the
ninth typhoon to hit China this year, is weakening as it
moves further north along the country's affluent and
densely-populated eastern coast, forcing the evacuation
of 610,000 residents on its course, authorities said Sunday.
The typhoon, bringing gusts up to 178 km per hour, is moving
at 25 km per hour towards the coast of Shandong Province where
it is expected to make landfall Monday morning, the National
Meteorological Center said in a bulletin. (Xinhua/Huang
Jiexian)
Typhoon Muifa to hit Liaodong peninsula on Monday
Typhoon Muifa is approaching waters east of China's Shan-dong peninsula and is forecast to hit Liaodong peninsula on Monday. Strong winds and continuous heavy rain is forecast to hit several parts of Shan-dong province.Full story >>
Typhoon Muifa weakens as it moves near China's key eastern ports
Typhoon Muifa, the ninth typhoon to hit China this year, is weakening as it moves towards the country's key northeastern ports after forcing the evacuation of 610,000 residents on its course along the affluent and densely-populated east coast, authorities said Sunday. Full story >>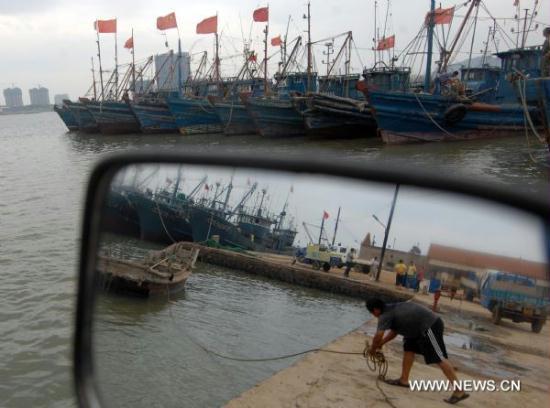 A fisherman reinfoces his vessel in Fengcheng fishing port of Haiyang, east China's Shandong Province, Aug. 7, 2011. The typhoon Muifa, bringing gusts up to 178 km per hour, is moving at 25 km per hour towards the coast of Shandong Province where it is expected to make landfall Monday morning, the National Meteorological Center said in a bulletin. In Shandong, the local weather forecast bureau said the typhoon might further weaken into a tropical storm when it lands, even so authorities continued to order about 20,000 fishing boats to lay anchor in harbors. (Xinhua/Guo Xulei)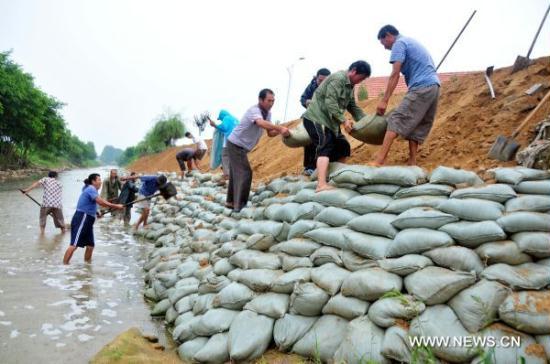 Workers reinforce the bank of seashore before the approaching of Typhoon Muifa in Rushan, east China's Shandong Province, Aug. 7, 2011. Typhoon Muifa was predicted to make landfall in the coastal areas of Shangdong Province on Sunday. (Xinhua/Liu Guoxian)
Editor:Zhang Dan |Source: CNTV.CN