Watch Video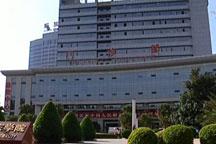 Play Video
Bone marrow transplants are one of the most effective ways of treating leukemia - a disease that kills hundreds of thousands of people worldwide every year. Of course, successful treatment depends on the availability of bone marrow, and the number of people willing to be donors. In nearly all cases, the donation procedure is straightforward. But very occasionally, things can go horribly wrong.
Miss Li is a 23 year old college graduate. On the morning of July 20th, she went to a blood collection room in Yunnan No.2 Hospital, as a voluntary bone marrow donor. The hour-long operation began well. But suddenly, the machine used to collect blood and extract bone marrow malfunctioned.
Yu Meijia, doctor of Yunnan No.2 Hospital, said, "We noticed the machine's ventilation system was leaking air. The blood that was supposed to go back into Miss Li's body was disrupted by the machine's circulation system. Then the centrifuge slowed down."
The bone marrow extraction process was about half way through at the time of the malfunction.
Miss Li became very nervous and agitated, and began to panic. Miss Li said, "I was crying and I began to get very worried. They covered my eyes and started to comfort me, saying everything was fine, but that the machine had broken. I heard they made some phone calls and restarted the machine. But it still didn't work. I remember they told me they have the best machine and the best doctors."
The operation was terminated. After several attempts to restart the machine, doctors decided to transfer her to another hospital in Kunming, to continue the donation process. But she was hesitant, and unwilling to go.
The doctors and nurses tried to comfort her and encouraged her not to give up. After a long struggle, Miss Li finally agreed to switch hospitals and continue the donation, saying she was doing it for the patients.
But at the last moment, a call from Miss Li's mother dramatically changed everything. Miss Li had been making bone marrow donations without anyone's knowledge. It was only when things went wrong, that her family became aware of her generosity and the situation she was now in.
Miss Li said, "My mum phoned me before I switched hospitals to say that if I didn't stop the donation, I wouldn't see her again. She would have cut off our ties." The strong reaction from Miss Li's mother shook her determination to continue the donation process.
The China Marrow Donor Programme called Miss Li's mother, trying to persuade her to change her mind. After several discussions, Miss Li's family said the donation process could continue - but only if they were given an official apology, doctors' certifications, and 50 thousand yuan in compensation.
They also demanded the hospital guarantee Miss Li's physical and mental health for the next five years. These demands were eventually met. But there was still a twist in the tale.
Li Aihua, director of Yunnan China Marrow Donor Program, said, "Miss Li called me to say she couldn't continue with the donation procedure anymore."
After all the ups and downs, Miss Li said she could no longer take the pressure - from her family, the media, the hospital, and most importantly, herself.
Related stories
Editor:Zhang Dan |Source: CNTV.CN