Watch Video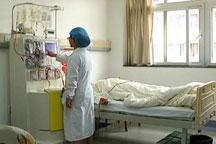 Play Video
Miss Li's cells were to be used to treat leukemia sufferer, Wang Chuanlin. But the termination of the donation process placed him in considerable danger. In order to ensure the new stem cells could survive in Wang's body, doctors had already killed off his remaining white blood cells, destroying his immune system. Without new stem cells, Wang's doctor says he could easily become infected, putting his life at risk.
Wang Chuanlin lies in an isolated treatment unit, awaiting a vital bone marrow transfusion. A farmer from Xuzhou city, Jiangsu province, Wang was diagnosed with leukemia in February.
His family borrowed about four-hundred thousand yuan, or 70 thousand US dollars - more than Wang could ever hope to earn in a lifetime. In May, he was told that a matching donor had been found.
Wang Chuanlin's wife said, "He was very happy then. He thought the transplant could be done immediately, and he'd be on his way to getting better." Some stem cells donated by Miss Li had already been transfused. But the tranplants stopped, after Miss Li's terrible accident, and her decision not to continue. "I hope there'll be other nice people to donate stem cells. We don't have much money to maintain long-time treatment. "
Miss Li is aware of Wang's condition, and his desperate need. But her boyfriend says incident has made her very nervous. She also blames staff for not handling the situation well.
Miss Li's boyfriend said, "After the procedure went wrong, she was emotionally and physically exhausted. The staff asked her to resume the transfusion over and over again. But none of them showed any concern for her health. When the machine went wrong, the doctors didn't know what to do. Who would ever dare risk going through that again? Her parents think the hospital was irresponsible and unreliable. "
But the hospital claims they are not to blame. Chief physician of Hematology Dept. in Yunnan No.2 Hospital, said, "I don't think we can be held responsible. It's impossible to anticipate mechanical failure. It had worked well up till that point. It's normal for electrical equipment to go wrong. "
Li Bin, director of Yunnan China Marrow Donor Program, said, "Li definitely cannot take the blame. The hospital should take major responsibility. If the equipment had worked well, the donation would have been completed and everyone would be happy."
Miss Li says she had little idea about the donation procedure before it began. Many of her room mates had joined the China Marrow Donor Program. So she decided to follow them.
Miss Li said, "They said it was very easy, as they'll just take some blood. I didn't know it would be so complex. The chance to be selected was very small. I never actually thought my name would come up. That's why I joined the program."
The China Marrow Donor Program says they will try to learn lessons from this tragic case. In the future, they hope to provide more education, so potential donors are fully aware of the procedure - and the risks, however minimal, to both themselves, and the people they are hoping to help save.
Related stories
Editor:Zhang Dan |Source: CNTV.CN