Watch Video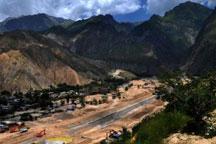 Play Video
A year ago, a deadly landslide took more than a thousand lives in Zhouqu County, in China's northwest Gansu province. With help from across the country, the remote town in the western mountains is slowly recovering. Our reporter Xu Zhaoqun has the story of how survivors are starting a new life.
Debris from the destroyed part of the town has been all cleared. But He Jianzhou still loiters around where his home once stood. He lost eight family members in the disaster, including his wife and two children.
He Jianzhou, Zhouqu resident, said, "The house was just completed after the Wenchuan earthquake. Twelve rooms, are all gone."
He used to be a building contractor. The disaster destroyed his family, his new house, and all the wealth he accumulated in the past twenty years. The experience has scarred him for life, so much that he is paying close attention to details on how the diversion canal is being built.
He Jianzhou said, "My home was just between the two flags. Before the landslide, the water drainage channel beside my house was just about two meters wide. The new one is big enough. I hope it can save our lives against any future landslides." He and his father are now staying in a low rent house provided by the local government. "I am not a contractor any more. I have to care about food prices, especially vegetable prices."
He's biggest concern is his new house, which is being built in the eastern part of town. It took almost 10 months for the local government and geologists to choose an appropriate place for the new houses, and make an overall plan of the new town.
One day before the 1-year anniversary, He came again to the construction site. Amidst the music for the rehearsal for Monday's anniversary ceremony,He said once they move in, he will try to restart his business as soon as possible.
Zhouqu is one of the poorest counties in Gansu province. With scarce land available for farming and industry, the people here are much more vulnerable to natural disasters. He and his fellow villagers said, they have given up quite a lot of things after the landslide, but they will never give up hope.
China relaxes birth restrictions for victim families of mudslide-hit county
China has relaxed its birth-planning policy for families who lost children in a massive mudslide that hit northwest China one year ago. Operations to untie women's tubes, who'd had them tied as a result of past enforcement of the family planning policy, will soon be free in Zhouqu, officials said on Friday, on eve of the anniversary of the mudslide devastation that left more than 1,700 people dead or missing in the county in Gansu Province on Aug. 7, 2010.Full story >>
Diversion channels under construction in Zhouqu to avoid mudslide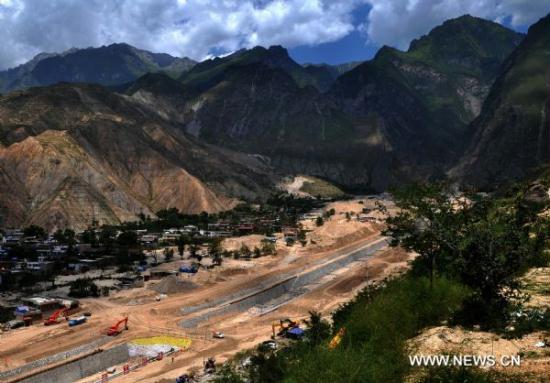 Photo taken on Aug. 7, 2011 shows the Sanyanyu diversion channel which is under construction in Zhouqu of northwest China's Gansu Province. A massive mudslide hit the county one year ago, causing huge damage to local people. In order to avoid similar disasters, two diversion channels, Sanyanyu and Luojiayu, are being built to steer the possible flood and mudslide directly into Bailongjiang River. (Xinhua/Liu Xiao)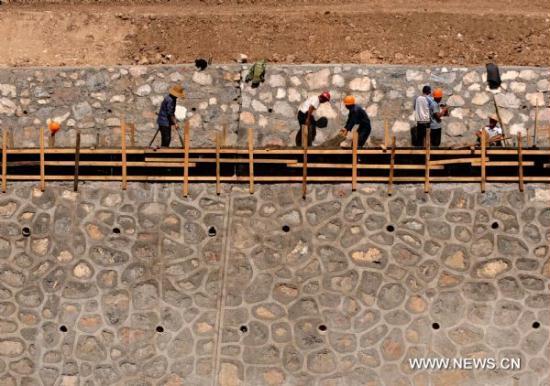 People work on the construction site of a diversion channel in Zhouqu of northwest China's Gansu Province, Aug. 7, 2011. A massive mudslide hit the county one year ago, causing huge damage to local people. In order to avoid similar disasters, two diversion channels, Sanyanyu and Luojiayu, are being built to steer the possible flood and mudslide directly into Bailongjiang River. (Xinhua/Liu Xiao)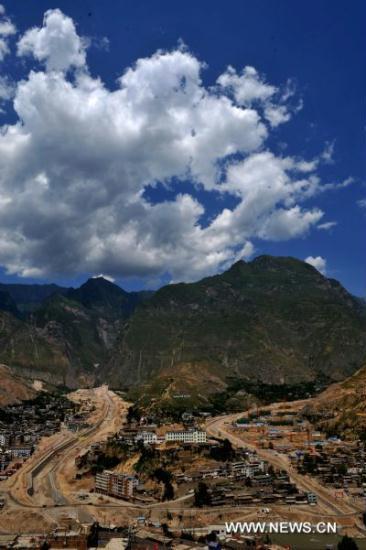 Photo taken on Aug. 7, 2011 shows the Sanyanyu diversion channel
(L) and Luojiayu diversion channel in Zhouqu of northwest China's
Gansu Province. A massive mudslide hit the county one year ago,
causing huge damage to local people. In order to avoid similar
disasters, two diversion channels, Sanyanyu and Luojiayu, are
being built to steer the possible flood and mudslide directly
into Bailongjiang River. (Xinhua/Liu Xiao)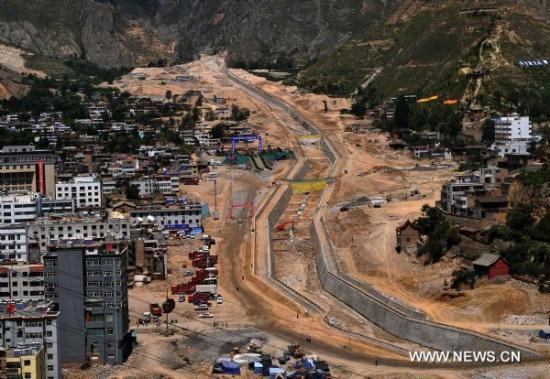 Photo taken on Aug. 7, 2011 shows the Sanyanyu diversion channel which is under construction in Zhouqu of northwest China's Gansu Province. A massive mudslide hit the county one year ago, causing huge damage to local people. In order to avoid similar disasters, two diversion channels, Sanyanyu and Luojiayu, are being built to steer the possible flood and mudslide directly into Bailongjiang River. (Xinhua/Liu Xiao)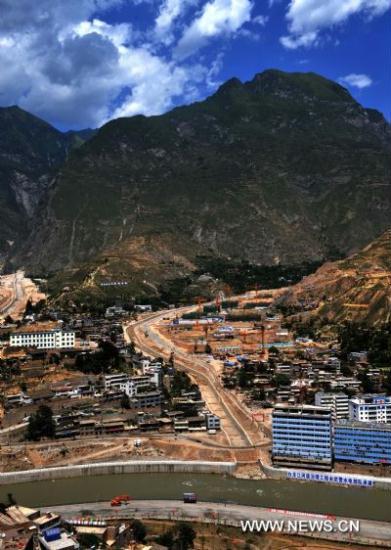 Photo taken on Aug. 7, 2011 shows the Luojiayu diversion channel
in Zhouqu of northwest China's Gansu Province. A massive mudslide
hit the county one year ago, causing huge damage to local people.
In order to avoid similar disasters, two diversion channels, Sanyanyu
and Luojiayu, are being built to steer the possible flood and mudslide
directly into Bailongjiang River. (Xinhua/Liu Xiao)
Editor:Zhang Dan |Source: CNTV.CN