Watch Video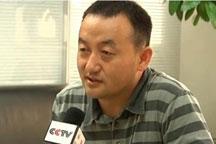 Play Video
It has been two months since the oil spill in Bohai Bay. Inspectors have been demanding the operator, Conoco Phillips China, find out the cause, and control the leak. But as Zhao Yunjie finds out, the company has only been collecting evidence to avoid possible punishment.
Conoco Phillips China says in a report Friday that the company has sent 99 staff and 16 vehicles to inspect Bohai Bay. More than 28 hundred kilometers of coastline are being looked at.
The samples it collects will be sent to test whether it is the same as the newly-discovered oil-based drilling mud on the sea floor near Platforms B and C.
Hao Jianfeng, lawyer of Beijing Fada Law Firm, said, "Conoco Phillips China is directly involved in the spill. The test report it's requested is questionable in objectivity and justness. "
A branch of the State Oceanic Administration released its report mid-July. It says the oil particles found on two bathing beaches in the Bohai area came from the oil seeping in the Penglai 19-3 oil fields.
But Conoco Phillips China announced at the end of July, that they were not same, in its own report. The company says the results are different, because they took the sample from a different place, at a different time.
Hao Jianfeng said, "The State Oceanic Administration is an administrative supervision body. The test report it requested is legally valid and effective. "Conoco Phillips China says its test was done by a "third independent lab in China". But the name of the lab is not given in the report.
Editor:Zhang Dan |Source: CNTV.CN