Watch Video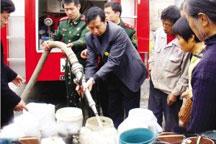 Play Video
In the drought plagued southwest Guizhou province, the villagers of Dahei village fight for more water to irrigate their own paddy fields every year. However, this year, even with the increasingly severe drought, people aren't arguing over water distribution.
The water for Dahei village comes from the Xingjiang River, two kilometers away. Irrigation water is distributed through a canal.
This year, water shortages are making distribution harder than ever. Every farmer wants his or her field get more water. So, the village has organized farmers to protect the canal 24 hours a day to guarantee everyone gets their fair share.
A farmer said, "We take turns to protect the canal and organize the order of irrigation. From upper fields to lower fields, from the fields that need water the most, to less urgent cases. It's our responsibility to guarantee fairness for everyone."
The head of Dahei village Fang Xuekai told us that, in this critical period, finding ways to save on water, money and labor is a top priority. Fang xuekai, head of Dahei village, said, "We investigated the fields, and distribute water according to the drought situation and size of the land. This is the most effective and fair way during the drought."
Beside this, the village has also organized people to work together to lay underground pipes in order to bring water to areas that the canal cannot reach. A farmer said, "This pepper field is my favorite land. The villagers help us build pipes to bring water here, so I estimate losses will be reduced by half. We are trying to salvage more."
This year, half of the Dahei village's 86 hectares of fields have been hit severely by the drought. With this 2 kilometer-long pipe, 10 more hectares more can be irrigated, and more losses can be recovered.
Editor:Zhang Dan |Source: CNTV.CN