Watch Video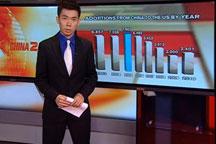 Play Video
For more, we are now joined by my colleague Zhang Shuo, who's been following the issue.
Q1: Can you tell us more about the adoption conditions now in China?
A1: Though my story has a happy ending, adoption conditions in China are not very positive. Seen from the data of adopting Chinese children over the last five years, we can conclude that both Chinese and foreigners are losing enthusiasm for adopting Chinese children, especially foreigners. We can see from the chart here that a total of 51 thousand adoptions were conducted in China in 2005, including 13-thousand international adoptions. These account for one fourth of all the adoptions in China. However, the number since then has decreased every year. In 2010, the total number of adoptions was cut to only 34-thousand, with only 14 percent coming from abroad. And as a major force of international adoptions in China, US parents posted the biggest drop. We can see from the chart, after reaching the peak of adopting 79-hundred Chinese children in 2005, the number is decreasing at a speed of one thousand every year. In 2010, American parents only adopted 34 hundred Chinese children. But the good side is, though the total number has been cut, the number of adoptions involving disabled children is rising.
Q2: What's the difference between the Chinese and the US adoption systems?
A2: China has strict adoption rules for both the parents and the adopted child. First the parents have to be at least 30 years old and have no biological child of their own. And they can only adopt one, except if the child is an orphan or disabled. And of course the parents must have the financial ability to raise them. And as for the adopted child, he or she should be under 14 years old. The US adoption system is a little different and more relaxed. The adopting parents must be at least 25 years old and no older than 50. And they must have less than five children under the age of 18. Meanwhile the age cap of the adopted child is 18, four years older than the Chinese cap. And finally, if US parents want to take on a child with disabilities, the age limit of the parents is 55 while the restrictions on offspring are also lifted.
Related stories
Editor:Zhang Dan |Source: CNTV.CN