Watch Video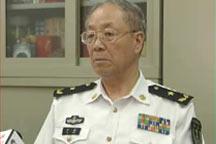 Play Video
China's very first aircraft carrier has embarked on its maiden voyage for a sea trial. Wu Haojun tells us exactly how long it will take to go from sea trials to possessing real combat capacity.
China's first aircraft carrier will be used for scientific research, training and eventually combat. And according to the expert, it will be a long process before the carrier achieves full combat capacity.
Personanel training vital for combat capacity
Yin Zhuo, military expert said "Personnel training is vital for building combat capacity. Having the equipment is the first step, but pilot training is key. Generally the training cycle lasts for 3 years. And then the pilot has to go through a three year residency period on the aircraft carrier, plus one more year of training on the carrier before being permitted to fly alone."
Besides landing in complicated weather conditions, night time flight operations pose one of the toughest challenges for the pilot trainees.
Yin Zhuo said "Some people are not allowed to fly through the night during their entire course of service. Actually, those permitted for night flight ops account for 60 to 70 percent of all pilots, which leaves 30 to 40 precent who can never fly at night. It all depends on personal qualities, that's why I said personnel training is the key."
It takes time to build a well-coordinated team
Operating a aircraft carrier is no easy task. Maintenance staff have to learn to maneuver around limited space to repair or refuel the aircraft. And for the command staff, it is a tough task to master the operations of all the aircraft on deck and it takes time to build a well-coordinated team around the carrier.
Yin Zhuo said "After the carrier is up and running, it still takes time to develop cooperation between the carrier and auxiliary ships, for example during air defense, anti-submarine, land and sea attack drills. Plus, there is also the issue of communication such as friend or foe identification. After reviewing France's experience, it will take about 10 years to address all the issues I have mentioned."
According to the trial plan, the first sea trial will not take long. The carrier will return shortly after to continue refitting and testing.
Editor:Xiong Qu |Source: CNTV.CN