Watch Video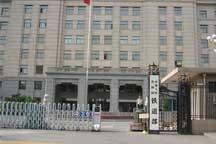 Play Video
China's credit rating agency, Dagong Global Credit, defends its stance that China's Ministry of Railways deserves to maintain its triple-A credit rating. Dagong says the ministry has an "extremely strong" ability to repay its debts. Analysts however are somewhat skeptical of the generous grade in light of the recent high speed railway accident as well as the total amount of debt the government agency has on its books.
Last week Dagong Credit Rating Agency gave the Ministry of Railways a triple-A credit rating, the best possible rating any entity can receive. The decision left markets in doubt as the agency is already heavily indebted with a debt to asset ratio reaching nearly 60 percent, and rising. The high profile dismissal of the former minister of railways earlier this year on corruption charges and the high-speed railway accident last month have further added to the skepticism of the operational efficiency and credibility of the ministry.
Dagong however defended its decision, saying that the ministry's ability to service its debt is backed by revenue from the central government, should it fall into default, the government will pay from its own coffers. Dagong also says concerns about falling revenue from cuts in ticket prices on affected lines will not be large enough to hurt the ministry's ability to repay. It adds that the decline in revenue will be offset by an increase in demand from cheaper ticket prices. Also the decision from China's State Council to lower the speeds of the country's bullet trains will cut costs related to train maintenance.
Although the ministry does have the backing of the central government, analysts say it has become more difficult for it to borrow money due to tightened market liquidity as well as rising concerns over the ministry's heavy debt burden. What seems to put analysts even more on edge, is that the ministry has a rating that's one level above China's sovereign debt, currently rated by Dagong at double-A plus.
The higher the credit rating the lower the borrowing costs, but the ministry recently issued 20 billion yuan worth of three-month bills yielding close to 5.6 percent, a relatively high rate for short term government debt. It indicates that markets might not be abiding by the triple-A rating given to the ministry by Dagong.
Related stories
Editor:Zhang Dan |Source: CNTV.CN