Watch Video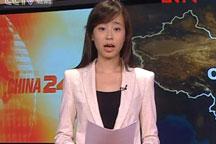 Play Video
For more information on China's bullet trains, we're now joined in the studio by my colleague Jie Bai.
Q1: Can you tell us more about which lines will see speeds decrease and what impact it will have on passengers?
A1: Yes, Zou Yue. Four lines will apply the brakes first, effective from Tuesday. Bullet trains running from Beijing to Tianjin, Shanghai to Hangzhou, Guangzhou to Zhuhai and one in Hainan Province will slow down,and ticket prices will drop 5 %. Take the Beijing-Tianjin line as an example. The journey will last three minutes longer, but passengers will pay three yuan less for the journey.
Q2: These changes don't seem very significant.
A2: Well, at first glance, three minutes, three yuan, these figures seem too small to make a difference. On the one hand, it's because these four lines are not very long. And also, a reduction in speed is not as simple as just hitting the brakes. It requires a lot of re-adjustments to the whole operating system. Electricity needs to be re-distributed, technical equipment such as signaling devices will also see some changes. According to the Railways Ministry, the speed of most trains, including those running between Beijing and Shanghai will drop by 50 kilometres per hour on average. There have been many calls to slow trains down following the fatal train collision in Wenzhou last month which left forty people dead and more than one hundred others injured. After all, people worry that these trains are not safe. Safety must be a priority.
Q3: You talked about speed versus safety. Is there any other re-adjustment to China's high-speed rail system to make sure that safety comes first?
A3: Yes. They are not only slowing trains down. They've also stopped the expansion of other high speed rail projects. Those under construction will be suspended and will undergo a detailed examination. The government hopes all these moves could help restore public confidence in the country's high-speed railway system. It just cannot afford another tragedy.
Related stories
Editor:Zhang Dan |Source: CNTV.CN