Watch Video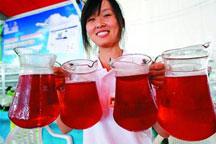 Play Video
Breweries from all over the world have gathered in the coastal city of Qingdao in Shandong Province, eager to make a stand in the world's largest beer market. The start of the second weekend of every August marks the beginning of Asia's largest beer festival, the Qingdao International Beer Festival. Festivities end just before the month draws to a close on August 28th, so if you're in the region, make sure to grab a few friends and have some fun.
What better way to cool off the summer heat and release the workday stress then to sip on a cool draught beer in the presence of great company. If you're in sandy Qingdao from now until August the 28th, put on your party hat and head to the annual Tsingtao International Beer Festival.
With a diverse representation of international brewers like Budweiser, Paulaner, Krombacher, Carlsberg and Heineken all on display, as well as the famous domestic brew of Tsingtao, festival-goers are bound to have no problem finding the beer that suits them best. And, with an endless supply of barbecued kebabs and karaoke, many are finding the carnival atmosphere, simply, a very happy place.
Actors perform at the opening ceremony of the Qingdao International Beer Festival in Qingdao, a coastal city in east China's Shandong province, Aug 12, 2011. The two-week, 21st Qingdao International Beer Festival kicked off on Friday night, in which over 200 kinds of beer products from 13 countries and regions would be presented for beer lovers. (Xinhua/Li Ziheng)
Wang Yong, a festival-goer, said, "The whole atmosphere at the Tsingtao Beer Festival is really good. It makes me feel extraordinarily happy to drink with friends here and I'm feeling that I can drink much more than usual."
On opening day this past Saturday, within one hour after the festival opened its doors, nearly 300,000 tourists flocked into Beer City, downing 77 tons of beer - a new record in the festival's 20 year history. By the end of the weekend, over half a million festival-goers had visited the park. The festival attracts both domestic and international tourists, curious to understand a bit more about the beer culture in China.
Sarah Buchwieser, a German tourist, said, "I think it's very different that they "gan-bei" here. We don't do that in Germany because we've got such big glasses that we cannot "gan-bei" with them. But I really like the Chinese beer tradition, you know, it's so special." "Gan-Bei" which literally means "dry cup" is analogous to "bottoms up."
Tsingtao is known as the beer capital of China and the century old domestic Tsingtao Beer is a best seller at the festival. Unlike Munich's Oktoberfest, which features primarily beer brewed within the city's limits, Tsingtao's beer festival features international brands. As Chinese purchasing power increases, the country is beginning to get a taste for more exotic and expensive foreign beers.
Guests break open the first barrel of beer at the opening ceremony of the Qingdao International Beer Festival in Qingdao, a coastal city in east China's Shandong province, Aug 12, 2011. The two-week, 21st Qingdao International Beer Festival kicked off on Friday night, in which over 200 kinds of beer products from 13 countries and regions would be presented for beer lovers. (Xinhua/Li Ziheng)
Fireworks are displayed at the opening ceremony of the Qingdao International Beer Festival in Qingdao, a coastal city in east China's Shandong Province, Aug. 12, 2011. The two-week, 21st Qingdao International Beer Festival kicked off on Friday night, in which over 200 kinds of beer products from 13 countries and regions would be presented for beer lovers. (Xinhua/Li Ziheng)
Tourists enjoy themselves at the 21st International Beer Festival at the beer city in Qingdao, east China's Shandong Province, Aug. 14, 2011. Qingdao's 21st International Beer Festival, a 16-day event, opened on Saturday, in which over 200 kinds of beer products of 20 well known brands are presented for beer lovers. A total of 77 tons of beer were sold during its first day. (Xinhua/Li Ziheng)
German tourists enjoy themselves at the 21st International Beer Festival at the beer city in Qingdao, east China's Shandong Province, Aug. 14, 2011. Qingdao's 21st International Beer Festival, a 16-day event, opened on Saturday, in which over 200 kinds of beer products of 20 well known brands are presented for beer lovers. A total of 77 tons of beer were sold during its first day. (Xinhua/Li Ziheng)
People buy beer at the 21st International Beer Festival at the beer city in Qingdao, east China's Shandong Province, Aug. 14, 2011. Qingdao's 21st International Beer Festival, a 16-day event, opened on Saturday, in which over 200 kinds of beer products of 20 well known brands are presented for beer lovers. A total of 77 tons of beer were sold during its first day. (Xinhua/Li Ziheng)
Tourists enjoy themselves at the 21st International Beer Festival at the beer city in Qingdao, east China's Shandong Province, Aug. 14, 2011. Qingdao's 21st International Beer Festival, a 16-day event, opened on Saturday, in which over 200 kinds of beer products of 20 well known brands are presented for beer lovers. A total of 77 tons of beer were sold during its first day. (Xinhua/Li Ziheng)
People drink beer at the 21st International Beer Festival at the beer city in Qingdao, east China's Shandong Province, Aug. 14, 2011. Qingdao's 21st International Beer Festival, a 16-day event, opened on Saturday, in which over 200 kinds of beer products of 20 well known brands are presented for beer lovers. A total of 77 tons of beer were sold during its first day. (Xinhua/Li Ziheng)
Tourists enjoy themselves at the 21st International Beer Festival at the beer city in Qingdao, east China's Shandong Province, Aug. 14, 2011. Qingdao's 21st International Beer Festival, a 16-day event, opened on Saturday, in which over 200 kinds of beer products of 20 well known brands are presented for beer lovers. A total of 77 tons of beer were sold during its first day. (Xinhua/Li Ziheng)
Editor:Zhang Dan |Source: CNTV.CN