Watch Video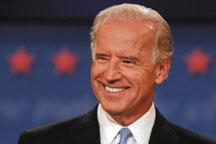 Play Video
Unsurprisingly, the US Treasury debt remains a top concern after ratings agency, S&P, downgraded it earlier this month. Experts hope Biden's visit will help consolidate the Sino-US relationship, and strengthen the fragile global economic recovery. CCTV reporter Zhang Nini reports.
Economic issues have come to the fore of Biden's China visit.
China holds more than 1.16 trillion dollars of U.S. Treasury bonds, the value of which was put into uncertainty along with the downgrade of the US credit rating by Standard and Poor's.
Biden's visit will likely address questions on the strength of the US economy, even though real relief is far from sight.
Prof. Tao Wenzhao, Center for China-US Relations, Tsinghua Univ., said, "Biden will brief Chinese leaders about the measures and the plans to reduce deficit...."
China's valuation of its currency remains a point of tension with the United States. The RMB has appreciated 0.7 percent against the US dollar this July, the fastest in recent years.
Professor Tao believes RMB appreciation is a likely topic, but the issue may lose some of its weight in American politics.
"Some US analysts hold that the RMB appreciation does not have a direction with US jobs. Even RMB appreciates, the Treasury deficit will still be there." Said professor Tao.
Many on both sides hope the US will carry out responsible and effective measures to reduce deficit, and thus strengthen the foundation for global economic development.
"One primary goal of Biden's China visit is to instill confidence about the financial well-being of the US. But words alone cannot ease the mounting concern over the safety of Chinese assets. What's needed are effective measures to reduce the deficit. Until that happens, uncertainties will remain for both China-US economic ties, and the world economy in general. Zhang Nini, CCTV, BJ"
Editor:Zheng Limin |Source: CNTV.CN