Watch Video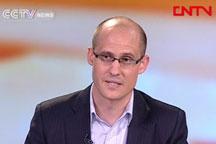 Play Video
For more on the closing of migrant schools in Beijing, we are joined in the studio by Jonathan Hursh. He's the founder of Compassion for Migrant Children, a non-profit organization based here in Beijing. Welcome, Mr. Hursh.
Q1: Your organization has worked closely with these schools. Can you give us some insight on what the major difficulties are in operating them? And what's the fate of the students after graduation? Are they sent back to their hometowns or can they stay and maybe enter a public school in Beijing?
Q2: Migrant workers have contributed so much to the development of some of China's largest cities. They're an integral part of the economic and social dynamic. So, what can be done for them? What measures or policies should be put into place to provide them with equal opportunities that local residents enjoy?
Editor:Zheng Limin |Source: CNTV.CN