Watch Video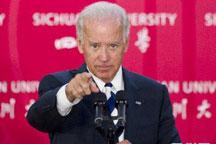 Play Video
US Vice President Joe Biden brought a strong message of mutual interdependence to the southwestern Chinese city of Chengdu. This marked the final stop of his six-day visit to China.
Duirng his stay, Chinese vice president Xi Jinping accompanied him to visit Qingchengshan High school in Dujiangyan, which was rebuilt after the 2008 earthquake. Earlier Joe Biden went to Sichuan University, duing his stay, he gave a speech saying that the United States and China need to recognize mutual global concerns and responsibilities, and ensure greater fairness in trade and investment conditions.
Joe Biden, US Vice President, said, "You often hear about Chinese exports to the United States but last year American companies in America exported 110billion dollars worth of goods and services to China, supported hundreds of thousands of jobs in America. The American people and the Chinese people are becoming aware that it is in our mutual interest in each of our countries to promote that exchange."
Editor:Zhang Dan |Source: CNTV.CN