Watch Video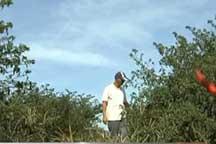 Play Video
Many chili pepper growers in Hainan province have begun to report that their plants are blooming but are not bearing fruit. This is happening all around Hainan Province.
Pepper fields without the pepper. This chili grower in Datian County says he began to notice something was wrong a few months ago.
Li Ruojin, chili pepper grower, said, "I found the pepper plant abnormal last December. Leaves were crinkled, the chilies were different from other years, and the fruit was malformed and very small. "
Li tried everything to save his chilies. He asked agriculture experts about the problem, but nothing worked. And he's not the only grower who can't harvest this year. More than 40 in his county alone are facing the same problem.
Li Yangkang, chili pepper grower, said, "I think I can only get about 200 kilograms in each unit this year. In other years, we got about 2 thousand kilograms. "
This is a substantial drop in profit for the planters - leaving many mounting costs. Li Hanhui, chili pepper grower, said, "I invested more than 7 thousand yuan. Now it's all gone."
There are about 5 thousand units of chili pepper plants that can't be harvested in Hainan province. With a price tag of 7 thousand yuan per unit, the estimated financial loss for the province's growers is 35 million yuan.
Editor:Zhang Dan |Source: CNTV.CN