Watch Video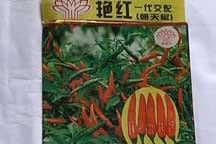 Play Video
Suffering from such crop failures, the chili growers are suspicious about the quality of the seeds. They are determined to get to the bottom of it in the hope of receiving compensation. But the path to their goal is one of twists and turns.
Li Ruojin, the chili grower, first contacted the seed factory with his suspicions, but the company denied the seed quality was poor. Li then went to the store, from where he had purchased the seeds, but his claims fell on deaf ears.
Legally, growers can ask the relative authorities to do field evaluations when it comes to quality complaints. However timing is key, as experts, who were called in from the provincial agriculture bureau, were unable to conduct quality tests on the ailing crop as the chilies were no longer in the growing phase.
Xiao Rixin, director of Veg. Research Inst., Hainan Academy of Agri-Science, said, "When we got there,the seeds had been planted for 11 months. This exceeded the chili's growing season, so it's impossible to correctly estimate the characteristics of this variety and its quality. "
The experts suggest the farmers plant some of the seeds next season, and they'll come and check again. But even for the earliest result, they have to wait until next January.
Huang Qianzuan, chili grower, said, "We would have to wait for another six to seven months for the results. That's too long. We cannot wait. So it's really difficult to accept this suggestion."
But the growers and experts missed a significant twist in the tale - the production date. According to information registered in the local industry and commerce administration, the seed manufacturer, which the farmers are suspicious about, was only running from 2001 to 2006. But the packets of seeds show the production date as 2010.
Wu Jianxiong, deputy director of Longhua Branch, Haikou Industry & Commerce Admin., said, "The production date doesn't fall into the time when the factory was in operation. So we can conclude the seeds are fake, or were not produced by this company. "
The local authorities are now investigating how the store got hold of the seeds. This is of little use to the chili growers whose fields - and pockets - lie barren.
Editor:Zhang Dan |Source: CNTV.CN