Watch Video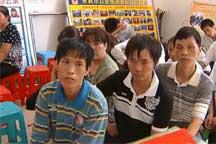 Play Video
Pyramid selling scams have become a serious problem for authorities in Guangxi Zhuang Autonomous Region. The scam works like this: a person convinces another to invest in a project and promises huge returns. To put the money together, he in turn finds other investors and promises the same deal.
Each person in the hierarchy takes a cut. But when the profits do not materialize and the scam is uncovered, the last person in the chain bears the losses. Our reporter Li Kefu takes a look at how Guangxi police are trying to dismantle the organization behind the scam.
Police in Laibin city are busy these days. Every day new members of a pyramid scam are taken into the police station for a quick lesson in economics.
Most of the members will be sent home after a few days at the police station. It's difficult to know however whether their stay will have taught them much. Pyramid selling was banned in 2003 but still hasn't disappeared. A major crackdown was already conducted here in 2006 but to no avail. The promise of getting rich overnight was simply tempting.
A resident in Laibin city said, "You come down on them hard today, but they just hide somewhere and return tomorrow! It's like a battle, you need to fight with them all the time."
And a battle it is. Police here say members leave home as early as 5 am and don't return before midnight so as to avoid the police. But catching them is one thing. Convincing them to change their ways is another. Police say the participants are systematically brainwashed by the organization.
Ning Hiaqiu from Laibin City Police Bureau, said, "They continue publishing new propaganda material and brainwashing people. It's all carefully organized. And we still haven't caught the leaders."
Over 20 members have already been arrested but received mild sentences. The organization has gone silent for some time, and calm has returned here in Laibin.
Related stories
Editor:Zhang Dan |Source: CNTV.CN