Watch Video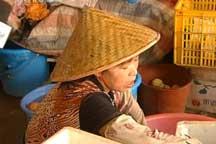 Play Video
We continue our reports on so called "multi-level marketing", the Chinese version of the Ponzi scheme or pyramid selling. The recent crackdown on the crime chains has significantly affected the city of Laibin as it contributes largely to its overall economy.
It's almost impossible to count how many people are involved in the "multi-level marketing" ponzi scheme, as the business is mainly carried out underground.
The large number of scheme participants has made a large contribution to Laibin's economy. On the city's Changmei road, there used to be thousands of people gathered with false dreams of becoming rich over night. But now, it looks empty.
A vendor in Laibin city, said, "Business is heavily affected now. Two thirds of my business is gone." "My goods can't be sold within three days. I used to carry new stock every day, now not even every three days. You see my bananas have gone bad."
Local residents however appear unconcerned. A local resident, said, "I wouldn't say I really care about it. Nor do my family."
The indifference from the public shows the dilemma that Laibin city face after the crackdown on the Ponzi Scheme chain. When the economy depends on such illegal business, the price will eventually have to be paid. Laibin city has just announced that the residents will be banned from providing accommodation and venues for "multi-level marketing" participants. City officials say it's the only choice for the city's better future.
Related stories
Editor:Zhang Dan |Source: CNTV.CN